You read that right—welcome to our massive list of 715 viral TikTok hashtags.
TikTok hashtags bring discoverability to your content. But for them to work, you need to choose your hashtags wisely.
Remember, you don't learn how to blow up on TikTok through hunches. You need proven and tested strategies to gain traction.

That's why in this guide, we're going to share 715 hashtags that will supercharge the reach of your TikTok posts.
(Quick note: You are more than welcome to copy and paste the hasthags in this guide. Enjoy!)
Table of Contents
Viral TikTok hashtags for marketing
Viral TikTok hashtags for beauty
Viral TikTok hashtags for fashion
Viral TikTok hashtags for lifestyle
Viral TikTok hashtags for fitness
Viral TikTok hashtags for health
Viral TikTok hashtags for travel
Viral TikTok hashtags for food
Viral TikTok hashtags for tech
Viral TikTok hashtags for business
Viral TikTok hashtags for designers
Viral TikTok hashtags for photographers
Viral TikTok hashtags for relationships
Viral TikTok hashtags for creators
TikTok hashtags best practices
FAQs on TikTok hashtags
Add viral TikTok hashtags quickly and easily
Viral TikTok hashtags for marketing
Trending TikTok hashtags for marketing are perfect for your own agency. They're also useful if you handle TikTok creators, influencers, or marketers in the digital marketing space.
#marketing #marketingdigital #marketingstrategy #marketingtips #marketingplan #marketinghacks #marketingonline #marketingtip #marketingtok #digitalmarketing #marketingtiktok #marketingagency #affiliatemarketing #onlinemarketing #marketing180 #marketing101 #emailmarketing #videomarketing #musicmarketing #marketingmentor #marketingmentor #foodmarketing #marketingexpert #marketingtool #marketingmajor #marketingmaster #marketingmistake #marketingtrick #marketingespresso #marketingdirector #contentmarketing #marketingsolutions #marketingentrepreneur #marketingsdigital #marketingplanning #marketingconsulting #realestatemarketing #marketingenthusiast #socialmarketingmarketing #marketingaffiliate #marketinghustler #marketingmerch #marketingbusinessowner #marketingstrategies #marketingbusinesscoach #marketingaffiliates #marketingb2b #influencermarketing #missmarketing #marketinglife #marketingchallenge #seotips #seofamily #seohack #seotips #seo
Viral TikTok hashtags for beauty
A good chunk of the most popular TikTok hashtags can be used by beauty brands. However, a solid hashtag strategy requires only relevant hashtags for maximum searchability.
#beauty #beautyroutine #beautygirl #beautychallenge #beautytips #beautyhacks #beautycare #beautyproducts #beautyblogger #beautyqueen #beautybomb #beautyboy #beautyful #beautymode #beautytip #beautyblog #beautybeautybeauty #beautyisbeauty #beautybay #classicbeauty #beautynotbeauty #beautyinbeauty #beautywithbeauty #beautybeautytips #passionbeauty #beautybeautytrends #lashes #lasheschallenge #lashesonfleek #lashesuk #lasheshack #lashesonpoint #lashesarelife #lashesdone #lashestutorial #longlashes #lashesmink #lashesfordays #lashesbylashes #lasheson #lashesoff #lashesbox #lashes3d #makeuplook #makeuptransformation #makeupremove #makeuphack #makeupvideo #makeupartist #makeupchallenge #tiktokmakeup #makeuptips #everydaymakeup #makeupchange #makeupcheck #makeupkit #makeupguru #makeupswpe #makeupaddict #makeupmakeup #makeuptime #makeupboy #makeupnomakeup #nomakeupmakeup #wakeupmakeup #makeupfx #makeupnotmakeup #makeupfullmakeup #makeupculture #makeupandmakeup #makeupwithoutmakeup #makeupupartist #makeupymakeup #lips #lipschallenge #lipstick #lipstik #lipstick
Viral TikTok hashtags for fashion
Fashion brands also have a deep, diverse pool of hashtags to choose from. They can use the same hashtags as beauty, travel, fitness, and photography TikTok brands.
But if you're looking for relevant fashion hashtags, here are the ideas you need:
#fashion #fashiontips #fashionhacks #fashionchallenge #fashionstyle #fashioninspiration #fashiontiktok #fashionweek #fashionhack #fashionblogger #fashiontrends #fashiontok #fashionstudent #fashiondesigner #fashionista #fashiongirl #fashioninspo #fashionmodel #fashionstyling #fashiontip #fashionshow #fashionfails #fatfashion #fashionlover #fashionposoe #fashionable #fashionicon #fashiongram #fastfashion #fashiondiaries #fashionfashion #fashionculture #fashional #fashionforfashion #fashionweekfashion #fashionstylo #fashionglobal #fashionilyfashion #fashionfashionshow #fashionofashion #kfashionfashion #fallfashionfashion #fashionfashiontiktok #girlsfashionfashion #shirt #shirtdesign #shirthack #shirtchallenge #shirtchange #shirtcut #shirtchangechallenge #shirtalert #shirtles #shirtviral #shirtswitchchallenge #challengeshirt #glasseschallenge #glassesstyle #glasseslife #glassesgirl #shoes #shoeschallenge #shoestyle #shoescheck #shoesgame #shoeshop #shoesize #shoeslover #shoestore #shoeart #shoesviral #shoesareshoes #shoesfire #shoesoff #shoesandmoreshoes #customshoesshoes #shoes4shoes #shoestoshoes #bag #bagchallenge #bagdad #bagbagbag #bag #baglung #bagwhatbag #bagged #copped #hat #hats #hatchallenge #pants #pantschallenge #tightpants #pantshack #splitpants #newpants #pantstime
Viral TikTok hashtags for lifestyle
Lifestyle creators, bloggers, and brands on social media are the most versatile when it comes to keywords, custom hashtags, and target audiences. Most lifestyle brands also create content that penetrate other niches, like food, tech, fashion, fitness, and beauty.
For this list, we'll look at lifestyle-only content hashtags for your TikTok posts.
#lifestyle #lifestylevlogger #luxurylifestyle #lifestylechallenge #lowlifestyle #lifestyles #mylifestyle #modelifestyle #lifestylemanifesting #lifestyler #lifestyleinspiration #lifestyle #styleicon #stylechange #styleking #styleme #styleinspo #styling #stylebloggerstyle #lifetips #life360 #lifechallenge #lifeisgood #lifeyourlife #lifeylife #lovelifelife #lifelifelife #lifelifehacks #lifehacks
Viral TikTok hashtags for fitness
Fitness brands use hashtags that relate to workouts, diets, weight loss, and health in general. They also use catchy, specific hashtags, like #Cardio, #GetFit, and #FitFam, that help their TikTok content generate more post engagement.
#fitness #cardio #getfit #fitfam #fitnessaddict #fitlife #fitnesschallenge #fitnessmotivation #fitnessfreak #fitnessjourney #fitnesstiktok #fitnesslife #fitnessgirl #fitnesstips #fitnessboy #fitnessmom #fitnessdance #fitnessfun #fitnesstrainer #fitnessfirst #fitnessquote #fitnessgoal #cycling #sweat #weights #workout #transformationtuesday #gymtime #gymlife #liftheavy #getstrong ##fitnesshub #fitnesslover #fitnessfail #fitnessgram #fitnesschallengefitness #fitknesstokfitness #fitnessjunkiefitness #fitnessrumor #fitcheck #fitlife #fittok #fitgirl #fitchallenge #fitnessfit #fitty #fitblogger #fitbabyfit #fitentrepreneur #fitfighter #gymtraining #gymchallenge #gymtips #gymgirl #gymroutine #gymmotivation #gymlover #gymhumor #gymbro #marathon #marathontraining #nopainnogain #girlswholift #personaltrainer
Viral TikTok hashtags for health
Health brands on social platforms cover a wide array of subtopics—from dieting to mental health. Use the right hashtags to reach the right audience on the TikTok app.
#health #healthtok #healthliving #healthyrecipes #healthchallenge #healthfood #healthcarelife #healthyliving #healthcoachlife #healthlifestyle #healthymindset #healthtips #healthytips #healthwealth #mentalhealthishealth #healtyhlifestyle #healthnut #healthyhustle #healthier #healthclass #healthyhair #healthyskin #healthyhealth #beautyhealth #healthiswealth #healthymehappyme #healthness #wealthhealth #healthisyourhealth #healthmindhealthbody #guthealthbodyhealth #healthself #healthandmentalhealth #healforhealth #wellnesshealth #healthcontent #wellnesslife #pelvichealthishealth #tiktokwellness #wellnessjourney #wellnesstips #wellnesscheck #wellnesstip #wellnesshack #wellnessroutine #wellnesstiktok #mentalwellness #wellnesswarriors #wellnessgirl #wellnesscoach #wellnesslifestyle #mywellness #wellnessshots #wellnesspartner #wellnesswednesday #wellnesschallenge #wellnessconsulting #wellnessexpert #beautywellness #hairwellness #onlinewellness #wellnessmood #wellnesssteam #winterwellness #wellnesspack #wellnesstheory #wellnessentrepreneur #wellnesseducation #packwellness #wellnessworkout #spiritualwellness
Viral TikTok hashtags for travel
Travel hashtags on TikTok garner hundreds of billions of views. Check out some of the best hashtags that will help you attract the most TikTok users.
#travel #traveltok #travelvlog #travelvlogger #traveltheworld #traveltips #traveldiaries #travelcheck #travellife #traveling #travelfun #travelgirl #travelvideo #ravellover #travelgoals #travelphotography #wanderlust #adventureseeker #doyoutravel #wonderfulplaces #goexplore #travelmore #openmyworld #vacation #summertime #travelholic #travelgram #travelland #familytravel #traveltraveltravel #traveltravel #travelry #traveltravelblog #travelwithtravel #travelography #beachvibes #beachchallenge #beachtime #beachtrip #beachwaves #beachlife #beachgirl #mountainslife #mountainscaling #mountainside #themountains #mountainslovers #mountainsview #snowymountains #inthemountains #climbingmountains #rockiemountains #eastmountains #hikingmountains #highmountains #travelcontest #traveltheworld
Viral TikTok hashtags for food
Food content on TikTok often sell themselves to more users than plenty of other content categories. But with the top TikTok hashtags for food brands, you can give your client's content the competitive edge.

#food #foodchallenge #foodtok #foodhacks #foodporn #foodblogger #foodvideo #foodreview #foody #foodtiktok #foodasmr #foodgasm #foodwards #foodbaby #foodgod #foodfood #foodlove #foodtiktokfood #foodmood #foodgloriousfood #foodvsfood #fooood #yummychallenge #instafood #tea #streetfood #bbq #sushi #seafood #delicious #breakfast #dinner #lunch #homemade #eats #cook #cookout #cookchallenge #cooking #cookwithme #cooktok #cooking #cookingshow #cookbook #cookingvideo #cookingchallenge #cookchef #cookings #flavor #flavorchallenge #flavormix #flavorgod #flavortrain #mysteryflavor #flavorheaven #flavorsavor #foodfoodfoodfoodfoodfood #foodfoodfoodgoals #foragedfood #foodfoodandmorefood
Viral TikTok hashtags for tech
Tech TikTok influencers don't use a lot of hashtags. But when they do, they use trending, viral hashtags that sometimes aren't tech-specific.
#tech #gaming #innovation #science #power #apple #gadgets #engineering #software #cybersecurity #tech #techlife #technews #techdeck #techwear #techology #techaddict #tiktech #techi #techers #webdesign #technopreneur #technolovers #technohouse #technics #phone #phonecover #phonehack #phonecases #phonerepair #phoneguy #phonegame #watchchallenge #luxurywatch #pcgamer #pcmr #smarthome #smartcar #techstartup #technologyrocks
Viral TikTok hashtags for business
TikTok business brands use a lot of motivational trending hashtags and TikTok quotes to gain more followers. Go viral and maximize your TikTok reach with these hashtag ideas:
#business #businesschallenge #businessmarketing #businessmotivation #motivation #businessowners #businesswoman #businesswomen #businesstips #businessideas #businesstip #businesstips #businesscoach #businessguru #businesscasual #businessshop #businessman #businessmen #businesstrip #businessmind #businesslife #businesstok #businesses #businessentrepreneur #success #entrepreneur #inspiration #startup #smallbusiness #entrepreneurship
Viral TikTok hashtags for designers
The design niche on TikTok encompasses several categories like graphic design, art, fashion design, and interior design. Boost the discoverability of your design content significantly with these most popular hashtags:
#designtips #logodesign #design #designer #designchallenge #designerchallenge #designtiktok #diydesign #designbyme #designit #designe #designtok #designdesigner #3ddesign #designers #designerwear #art #artchallenge #artwork #artist #artclub #artsy #artmeme #artlover #artforheart #artartart #interiordesign #architecture #graphicdesign #homedecor #handmade #instagood #designerfashion #designinspo #designinterior #designwanted #designthinking #designershoes #designlife
Viral TikTok hashtags for photographers
Photographers on TikTok use a mix of hashtags under several niches to reach more potential followers. They might use hashtags about new trends, food, travel, lifestyle, or fashion—depending on their specialization for less competition.
#photography #photographytips #photographyideas #ephotographytricks #photooftheday #photographer #nature #picoftheday #naturephotography #photoshoot #photo #photographychallenge #photographyeveryday #photographyday #photographylovers #photographysouls #photochallenge #phototips #photomagic #photocard #photobomb #photoshopchallenge #photoshoptricks #photoshoptutorial #photoshopskills #photoshop101 #photoshopfail #photoshoptiktok
Viral TikTok hashtags for relationships
Relationships creators know how to get more views on TikTok after posting: respond to comments, answer TikTok questions, and use trending TikTok hashtags for discoverability. They don't have a list of secret TikTok hashtags, but they use these ones in their content strategy:
#love #datingproblems #datinglife #datingadvice #datingtips #datingsites #datingstories #datinghack #datinghumor #datingshow #datingapp #datingstory #datingover30 #datingishard #datingquestions #datingfacts #datingexpert #parenting #parentsbelike #parentingtips #parentchallenge #parenthack #parenting101 #singleparent #parentinghack #proudparent #parentstobe #parentsoftiktok #parentlogic #relationships #relationshipquotes #relationshipgoals #couples #life #couplegoals #selflove #family #lovequotes #relationshipsbelike #relationships101 #relatioinshipsayings #relationshipstruggles
Viral TikTok hashtags for creators
Every TikTok brand is technically a creator, but there's a certain group of influencers and bloggers who use their own hashtags, participate in hashtag challenges, and cover whatever topic interests them and their audience at any moment. If you want to learn how to become a TikTok influencer, here are some of the most popular TikTok hashtags you can use.
#foryou #foryoupage #discoverpage #duet #tiktok #funny #comedy #viral #trending #fyp #follow #followforfollowback #meme #explore #video #tiktokfamous #tiktoktrend #slowmo #tiktokmademebuyit #challenge #behindthescenes #tiktokdiscoverpage #discoverpageforyou #lickinglips
Best practices for adding hashtags on TikTok
1. Use automated hashtag suggestions
Very few social media management tools feature built-in hashtag suggestions that let you find relevant hashtags on the fly.
Use Vista Social to reveal trending hashtags for your post as you schedule it.
On the "Publish" tool, create your post as usual and click the 'Hashtags' button. Select 'Hashtag suggestions' in the pop-up window and search for your trending hashtag using a relevant keyword.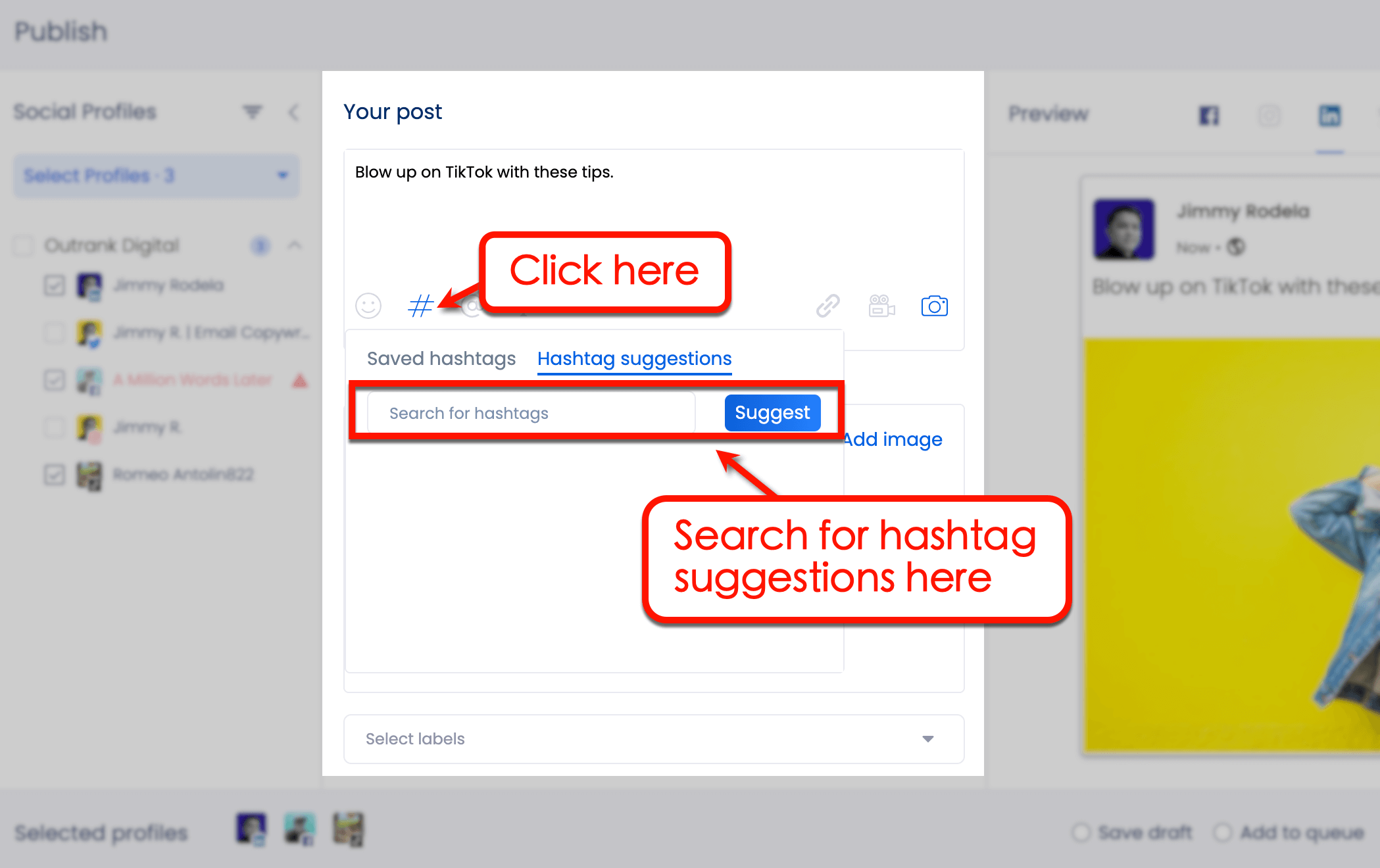 Hashtag suggestions are automatically sorted according to their popularity. Click on any hashtag to add them to your post's caption.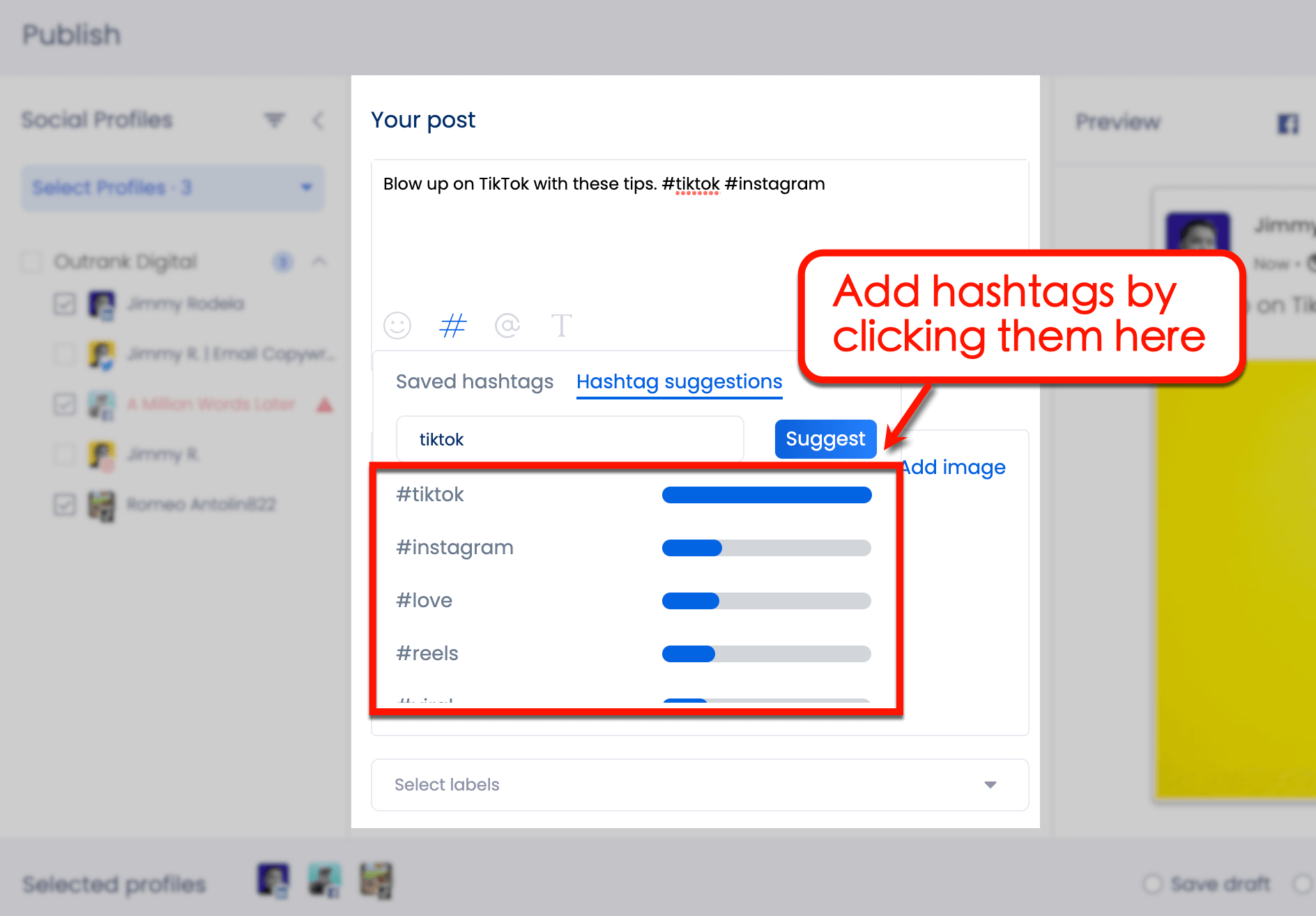 2. Only use relevant hashtags
Don't stuff your TikTok post with hashtags.
While there's no limit to the number of hashtags you can use on TikTok, it can make your post captions look messy.
Use only relevant hashtags that will attract the right audience to your TikTok videos. If you need to add more, insert them as a comment instead.
Vista Social's automated first comment tool comes in handy for this.
On the Publish tool, enter the desired hashtags in the "Leave first comment" field under the post preview.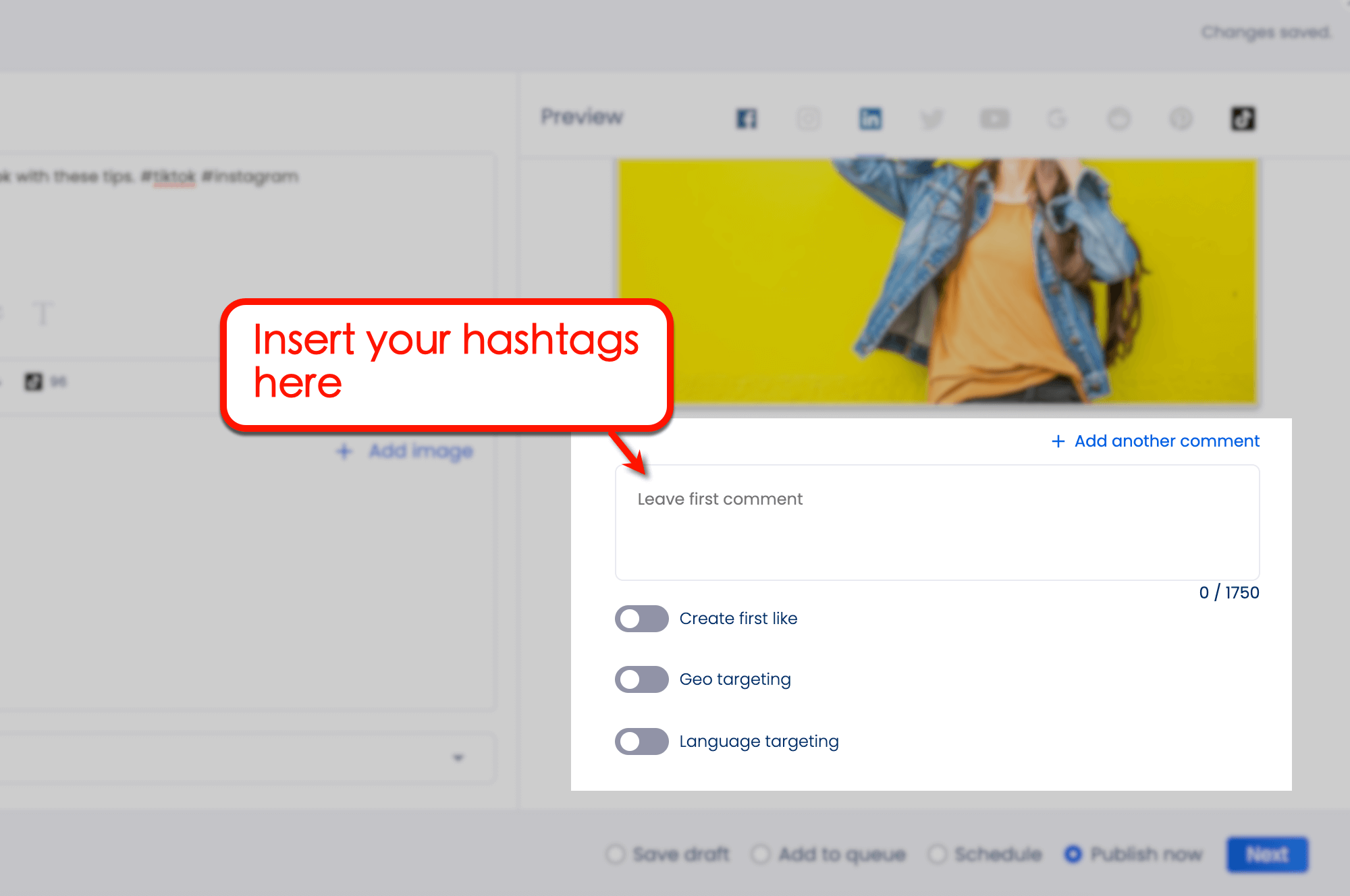 Just remember that adding hashtags through comments is less effective than inserting them into captions. As a rule of thumb, only use the comments option for secondary hashtags.
3. Participate in hashtag challenges
Hashtag challenges let brands engage the TikTok community in an organic way.
Apart from humanizing your client's brand, participating in hashtag challenges also boosts exposure to your target audience.
Search for hashtag challenges using the search bar in your TikTok app. Alternatively, open TikTok from a desktop browser and search "#hashtagchallenge" to reveal ideas.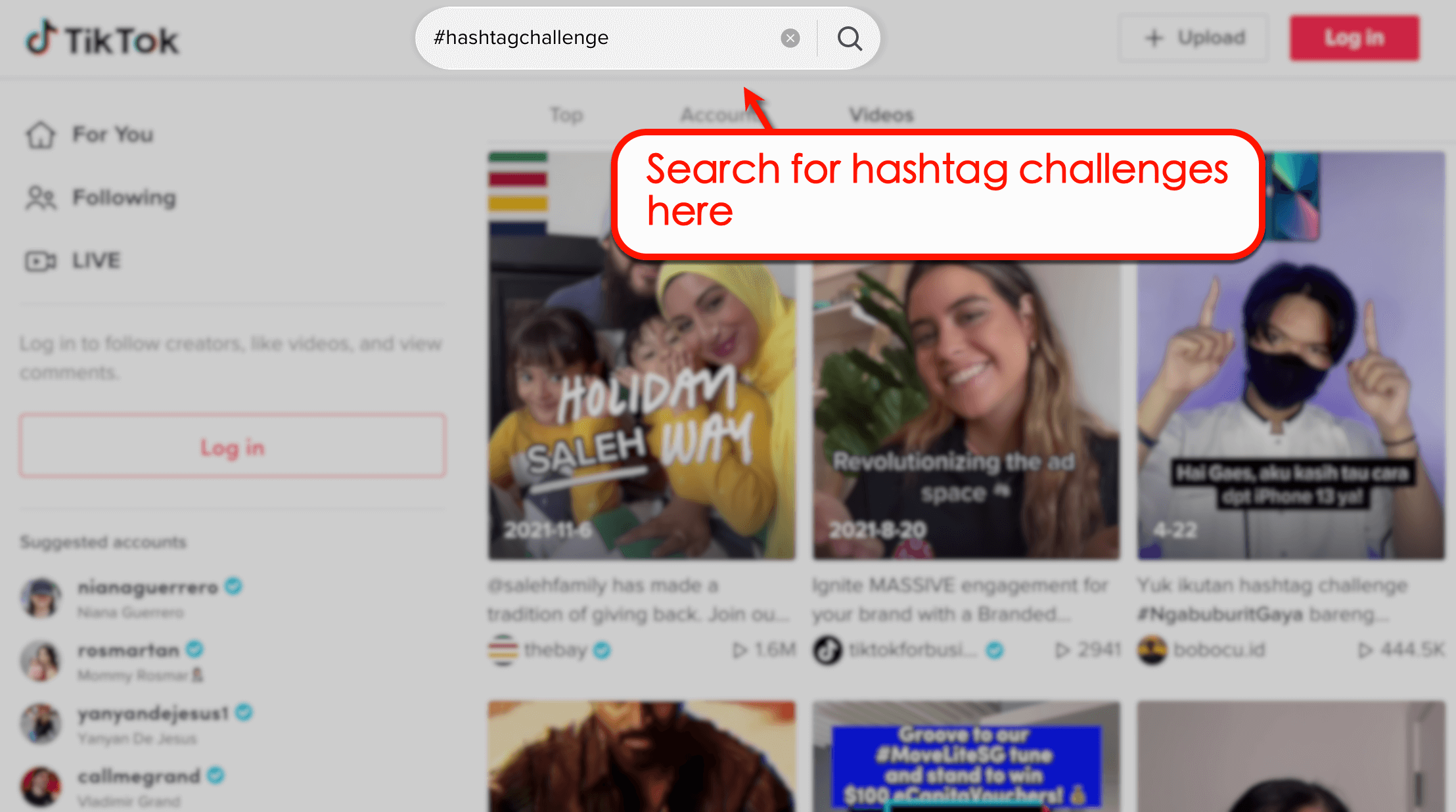 4. Create a branded hashtag for your client
Collaborate with your client to brainstorm unique and catchy hashtags.
A hashtag idea can be tied to their brand as a whole or to a specific promotion.
For example, Nissan Australia's #improvisewithJUKE campaign is considered one of the most successful branded TikTok campaigns. It was attached to the release of their new JUKE, garnering 129.4 million views over the campaign period.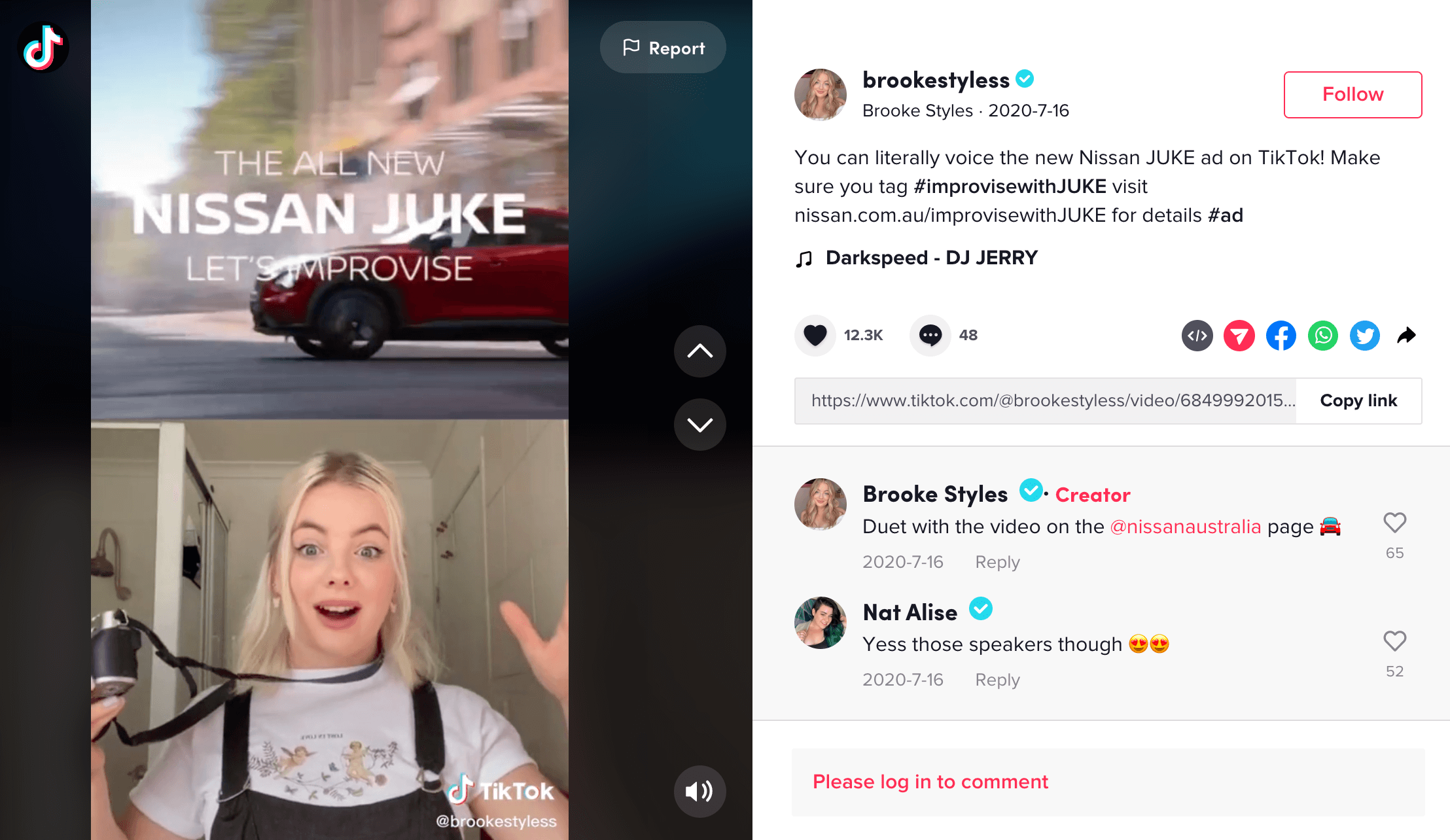 FAQs on TikTok hashtags
What hashtags get most likes?
Top 5 TikTok hashtags:
#fyp
#foryoupage
#duet
#tiktokchallenge
#trending
Do hashtags work on TikTok?
Hashtags improve the visibility of content on TikTok's built-in search tool. They help users discover relevant content and jump into conversations that matter to them.
Should I use #fyp on TikTok?
While plenty of the most popular TikTok posts from creators use the "#fyp" hashtag, there's no conclusive evidence that it works. Instead, focus on the relevancy and popularity of hashtags before using them.
How many hashtags should I use on TikTok?
You can use as many TikTok hashtags as you want, but strategic hashtags work best. Insert a handful of your main hashtags in the caption while the rest can go in the comments section.
What is the best time to post on TikTok?
In general, the best times to post on TikTok are between 6AM-10AM and 7PM-11PM. Track user engagement analytics with Vista Social or TikTok's built-in insights to optimize your schedule over time.
Add viral TikTok hashtags quickly and easily
Never worry about TikTok hashtags again with Vista Social's built-in hashtag suggestions.
Vista Social crunches through heaps of user data to extract the best hashtags for your keyword. This helps you maximize your TikTok posts' reach potential effortlessly and quickly.
See it in action with a free Vista Social account today.