If you want to learn how to create winner TikTok videos, this guide has everything you need.
We'll discuss the anatomy of viral TikTok videos, the best examples for your inspiration, and the perfect tools for the job.
Continue reading to find out more.
Tip: Make the most out of this guide by reading How to get more views on Tiktok after posting. Maximize the impact of your TikTok videos before, during, and after publishing!
Table of Contents
Anatomy of successful TikTok videos
6 High-performing TikTok videos you can learn from
10 Top tools for publishing viral TikTok videos
Best practices in creating thumb-stopping TikTok videos
FAQs for creating TikTok videos
Dominate TikTok with top-tier video content today
Anatomy of successful TikTok Videos
Structuring your client's TikTok videos for success is the secret on how to become a TikTok influencer.
It will help you get more likes, views, shares, and all other sorts of user engagement.
Before you dive into the video-making process, you need to understand the elements that make TikTok videos great.
1. Captivating hook
An effective hook stops users from scrolling through posts. It draws attention to your client's TikTok video and compels them to continue watching to the end.
With countless videos on the platform, users won't run out of new content to watch. And no matter how useful or valuable your content is, you won't get views if you can't hook your audience's attention first.
Make sure they stick until the end of your videos with captivating hooks that convey your message in four seconds or less.
2. Eye-popping visuals
Visual content on TikTok isn't just about videos.
Put extra care into your client's thumbnail, stickers, text overlays, and emojis to maximize the visual appeal and impact of your content. Use a combination that complements your video's message and format.
3. The right sound
Sounds on TikTok not only complete the video viewing experience. They also boost the discoverability of your client's TikTok video.
Other users can find your video if they try to use the same song. Some sounds also incorporate interactivity into TikTok posts (i.e. "Post this sound over a memory you miss").
4. Buildup
The buildup is the few seconds leading up to the solution or results you want to share.
Incorporate a storytelling element in your buildup to keep your audience's eyes glued to the screen.
For example, if you're about to talk about marketing strategies, think of the struggles you went through before you discovered them. Amp it up a little with power words and figure out compelling one-liners, like:
These marketing strategies supercharged our conversions by 300% in one week.
These marketing strategies changed the way we run campaigns forever.
Our marketing results were beyond disappointing until we found these hacks.
Different TikTok content require a unique approach to the buildup. Just ask yourself the question, "how can I get viewers excited?"
5. Solution/Results
Every great TikTok video offers something valuable to users. It can be a solution, result, or both.
Successful TikTok brands create a compelling learning experience on the app with a segment that delivers on the promises of the buildup and hook. Create this part of your video to be straightforward, simple, and focused on helping users learn something.
6. Call-to-action
The Call-to-Action (CTA) gives viewers that extra push into turning information into action. It also helps brands drive user engagement by requesting viewers to comment, follow, like, or share.
Here are some ideas:
Click the link in our bio to get exclusive tips and tricks.
Follow us for more marketing hacks. 
Tag/share this with someone who needs to rework their marketing. 
Suggested reading: 715 Viral TikTok Hashtags: Get More Likes And Followers
5 High-performing TikTok videos you can learn from
Knowing the elements of successful TikTok videos is different from seeing them in action. Let's look at some TikTok trending videos to give you ideas:
1. Things I wish I knew before getting into marketing – @flo.create_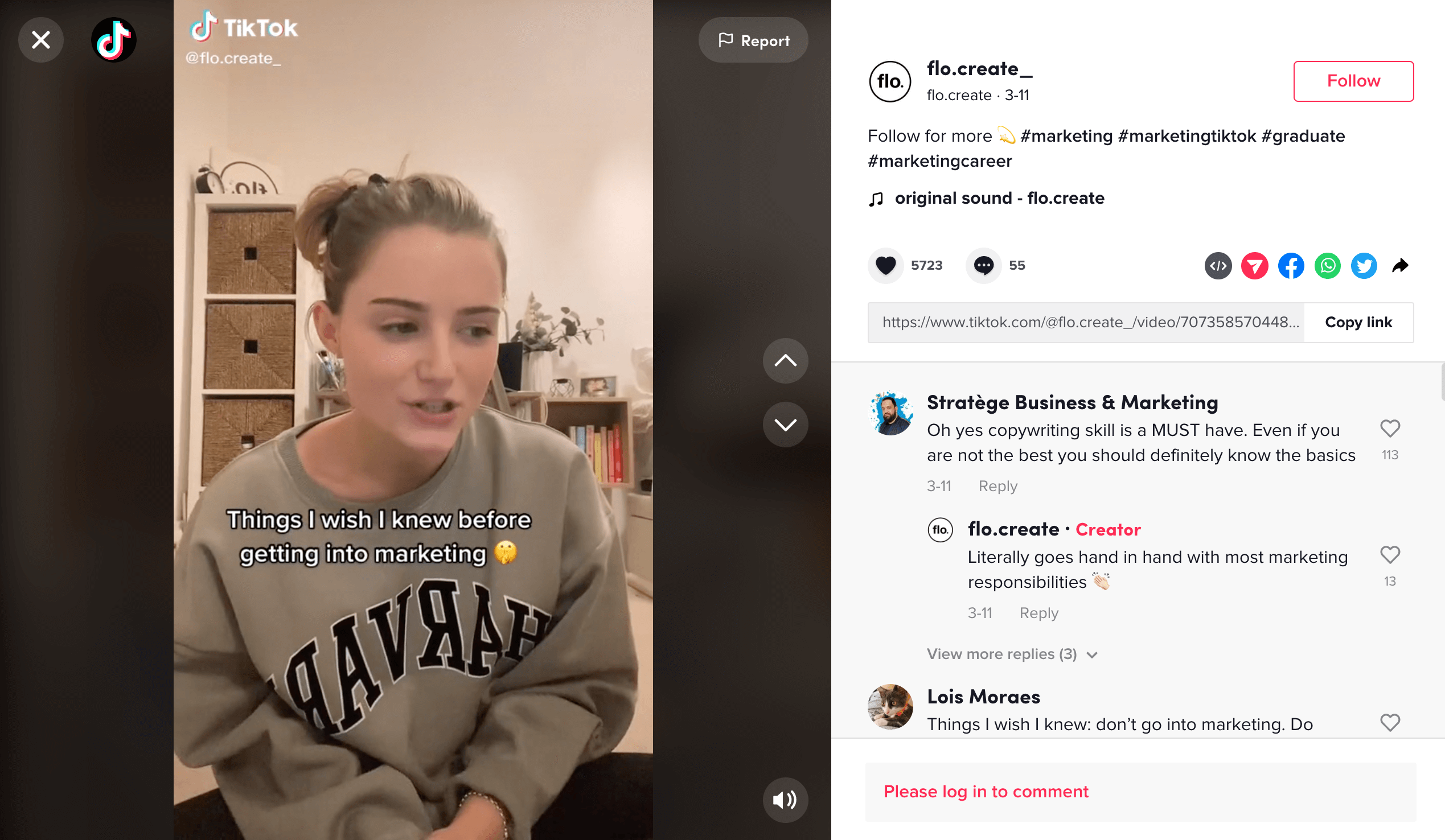 flo.create founder Yasmin proves that you don't need flashy graphics and camera work to create high-performing content on TikTok. In this video, she used the simple "talking head" video format to share the lessons she learned through several years in the marketing industry.
2. Branding tip you need to know – @therobbiemurray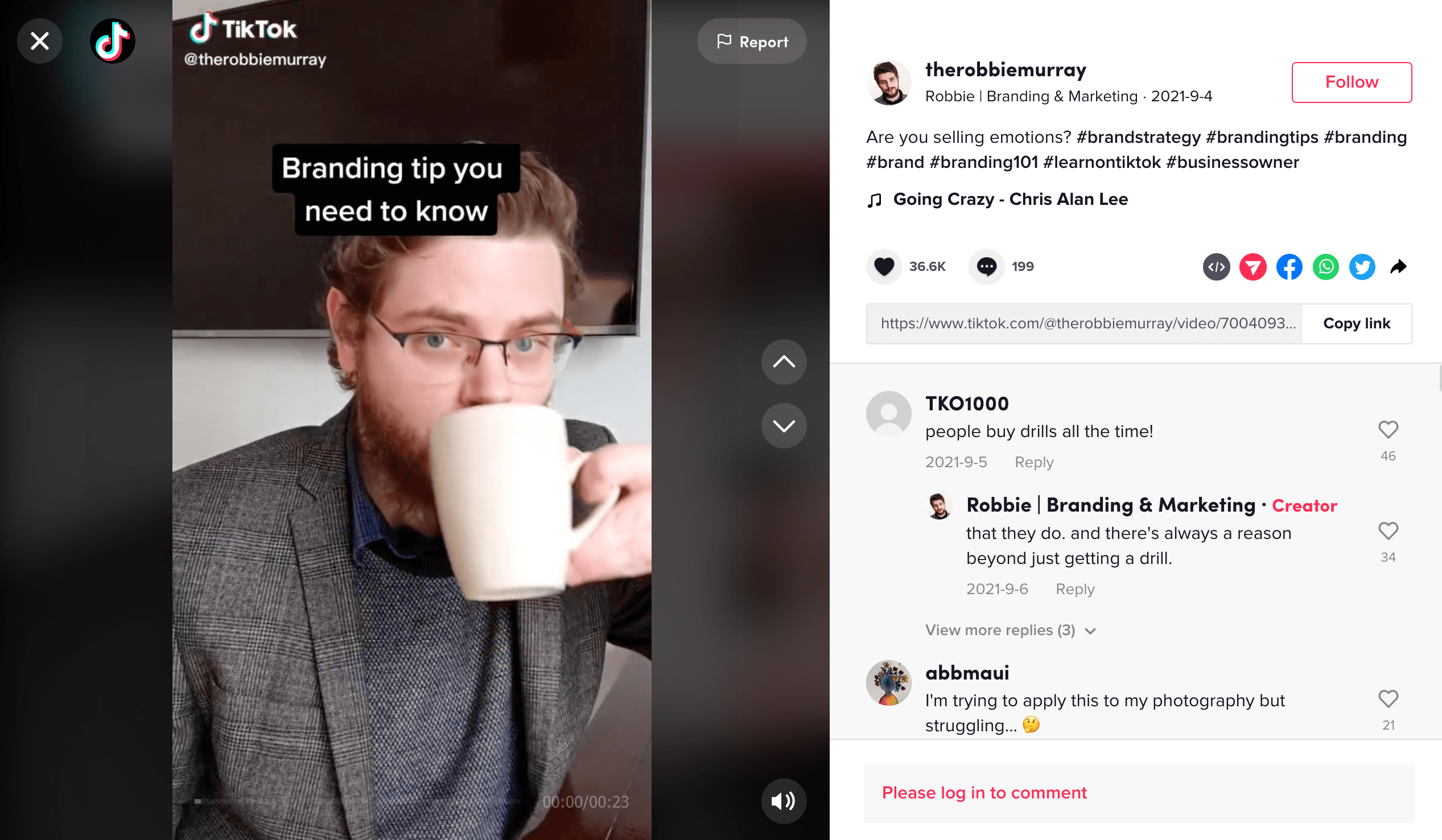 This TikTok video from branding expert Robbie Murray relied on photos, emojis, and text overlays and still managed to generate roughly 300,000 views on a video-first platform. What the post lacked in actual video footage, Robbie made up with to-the-point lessons, a clear voiceover, and a thought-provoking caption.
3. Learn email marketing from top brands – @digitalsamaritan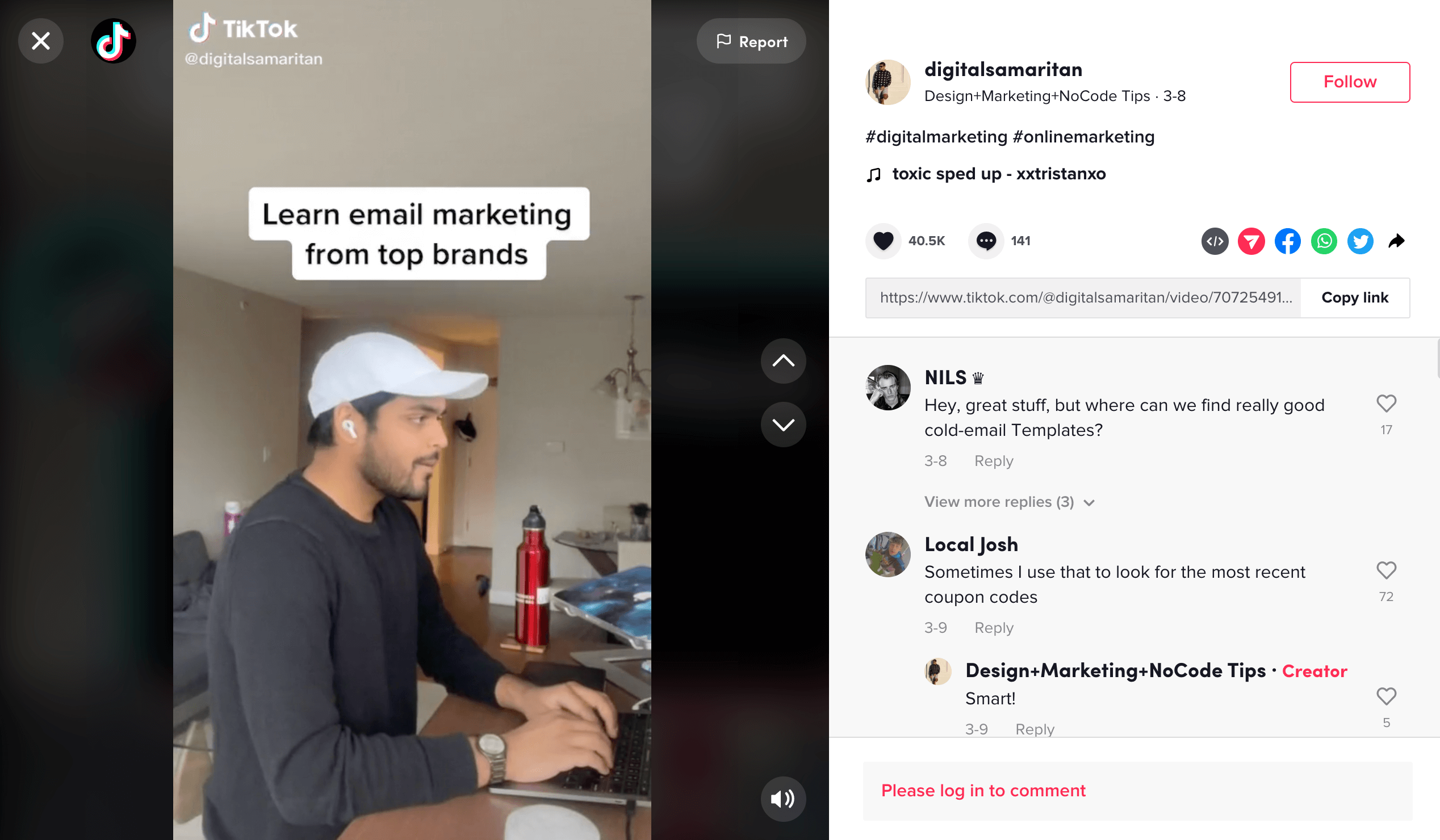 Digital marketing influencer @digitalsamaritan exercised one of the fundamentals of marketing in his TikTok video about email marketing. Rather than talking about the featured website, the hook and buildup focused on what the website can do for users.
4. Video hook templates – @jimmy_talbert
Jimmy Talbert, Co-Founder and Head of Marketing at Why Not Results, demonstrated how being clear with your value propositions gets views. His TikTok video promised nine video hook templates, which he delivered right away.
5. Paint – @therealkingkovu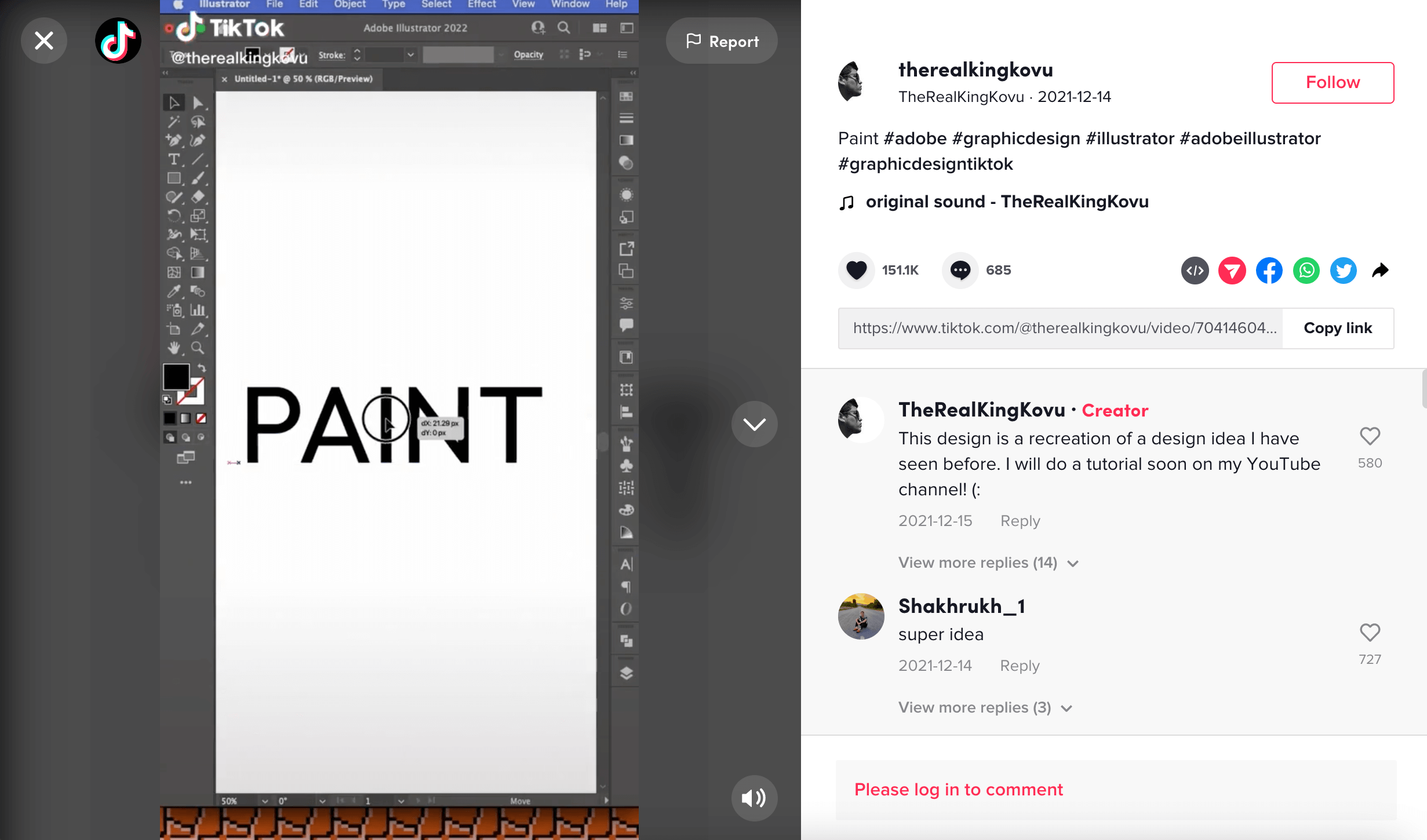 Short screen capture recordings make excellent video software tutorials. Graphic design influencer King Kovu's TikTok video exemplified this with a short video featuring his step-by-step design tutorial.
10 Top tools for publishing viral TikTok videos
Check out the top 10 TikTok tools that will help your videos go viral:
1. Vista Social
Vista Social is an all-in-one social media management platform that supports direct publishing to TikTok.
That means it can schedule and automatically post your client's TikTok videos, unlike other social media scheduling tools that only send posting reminders.
Vista Social also comes with conversation tracking, social listening, automated reporting, and review management features. It's everything you need to run successful social media marketing campaigns and more.
2. HashtagsForLikes
HashtagsForLikes improve the searchability of your client's TikTok (or Instagram) content by supplying you with popular and trending hashtags.
This platform treats hashtags like SEO keywords.
The hashtag results include difficulty scores, real-time hashtag metrics, and competitor hashtag analytics. These features help you cherry-pick the right hashtags that your client can grow with.
3. Clips
If you use an iPhone or iPad, Clips lets you create your own videos while maximizing the recording capabilities of your device. Use pixel-perfect Augmented Reality (AR) effects, apply filters, and add subtitles to create unique TikTok videos that draw an engaged audience.
Clips also allow you to stitch together multiple video files, generate automated title overlays, use 3D background scenes, and more. As long as you have a compatible device, it's one of the most feature-rich video editing apps you can get—not to mention it's 100% free.
4. VEED
VEED is a cross-platform video editor that allows for seamless video production workflows. It has unique features like automated subtitles and branded asset management.
Use VEED's robust video creation toolset to create eye-catching content that's consistent with your client's brand.
5. TikTok's built-in video maker
The main advantage of TikTok's native video editor is that it lets you discover new trends and create content on the spot. You can also adjust your video's speed, apply filters, answer questions, and more.
6. Filmora 11
Filmora 11 uses similar technologies with third-party video editors like VEED and Clips. It also features preset templates that let you whip up high-performance TikTok content within minutes.
Create professional-looking videos with advanced features like motion tracking, audio ducking, green-screen effects, and more. 
7. InShot
Simplify video editing using InShot to cut the middle parts of your recording. This enables you to produce video content for social media using single-shot clips.
InShot is also packed with tools that social media creators need, like voiceovers, stickers, text overlays, and filters.
8. Zoomerang
The top reason to choose Zoomerang over other third-party video editing apps is the collection of learning resources submitted by veteran creators. Understand how experts utilize features like the background remover, AI effects, color changer, and so on.
9. Analisa.io
Track the performance of your client's TikTok videos using real-time data from Analisa.io. Or, manage and optimize your TikTok content strategy by analyzing a competitor's TikTok profile.
Analisa.io can reveal other brands' posting frequency, hashtags, captions, and profile performance metrics. It also generates in-depth hashtag and profile reports to help you stay ahead of the curve.
10. Tik Hashtags
Tik Hashtags is a mobile hashtag research app—perfect if our TikTok toolbox consists of other mobile apps. Use it to obtain hundreds of hashtag ideas and gain followers in-app through the "Streak Wall" feature.
Best practices in creating thumb-stopping TikTok videos
Creating top-tier TikTok videos isn't hard, but there are several techniques that separate skilled video creators from the rest of the pack.
1. Use the word 'you' in your hook
Create powerful hooks by writing in second person and making viewers a part of the conversation.
For example, instead of saying "top 10 marketing tips," say "top 10 marketing tips YOU need to learn right now."
Alternatively, write your hook as a text overlay and capture your audience's attention with your actions instead. Show a sneak peek at your video's climax (solution or result) and cut straight to your buildup.
2. Use camera movement
Dynamic camera movement helps catch your audience's gaze.
Some popular techniques are:
Starting your video from a zoomed-in position and quickly zooming out.
Starting your video from a low angle and panning to your eye level.
Moving around with the camera to show more of your filming location.
Experiment with different camera movements at different points of your video. Eventually, finding the perfect angles, pans, and zooms will come naturally to you.
3. Don't delay your video's main point
TikTok videos are supposed to be bite-sized clips of entertainment and/or education. Don't drag your video too long and jump straight to your main message right after delivering your hook and buildup.
Taking too long to get to the point may bore your audience—a huge mistake considering they have many more options when it comes to TikTok creators that can provide them with the information they want.
4. Make your videos more interactive
Use different strategies to incorporate interactivity into your content and rouse up interest in your TikTok account.
A fun approach is to answer or post TikTok questions to stir conversations. You may also invite your viewers to "Duet" your video or participate in challenges.
5. Don't make false promises
If you note something in your video's hook or buildup, be sure it is covered in your video's solution, result, or CTA.
False promises will cause you to lose your target audience's trust. And with the torrent of TikTok videos being posted per day, users won't think twice about ignoring or unfollowing you for good.
6. Follow your favorite accounts
If there are people who could teach you how to blow up on TikTok, they're other popular TikTokers in your niche.
Your top favorite accounts explore new ideas and video formats on a regular basis. They have the reach to start new trends and challenges with every post on their feed.
Keep a close watch on their strategies and try to be one of the first to follow suit. Use platforms like Vista Social to set up automated listeners that help you monitor the top accounts in your industry.
FAQs for creating TikTok videos
What kind of videos go on TikTok?
TikTok is home to countless short-form videos that take on various formats. The predominant video types include trending sounds, challenges, duets, and simple tutorial videos.
Can you make money on TikTok?
Your TikTok profile can be monetized as a content distribution channel in your marketing. TikTok creators also get paid directly through the TikTok Creator Fund if they are at least 18 years old, have over 10,000 followers, and generated at least 100,000 views in the past month.
What are good TikTok videos?
Top 6 TikTok video ideas to get more views (for any niche):
TikTok challenges
Dance videos
Duets
Song imitations
Tutorials/educational content
Dialogue reenactments
Dominate TikTok with top-tier video content today
TikTok marketing is more than just your video development strategy.
It also involves your research, hashtag strategy, and posting schedule.
Use Vista Social to power up your TikTok research, hashtag management, and automated scheduling. With direct-to-TikTok posting support, you can get the most repetitive and time-consuming tasks out of the way as you focus on getting more clients and planning social media campaigns.
Give us a try with a free Vista Social account today.