Here's something successful Instagrammers use: one-word Instagram captions.
They're fun, engaging, and highly effective at pulling your target audience's attention.
They also go well with viral hashtags on Instagram at making posts more eye-catching and discoverable.
If you're looking for one-word Instagram captions for the Instagram marketing campaigns you're running for your clients, feel free to copy and paste any of captions in this guide.
Table of Contents
Best practices for adding one-word Instagram captions
One-word Instagram captions for marketers
One-word Instagram captions for beauty brands
One-word Instagram captions for fashion brands
One-word Instagram captions for business coaches
One-word Instagram captions for personal finance coaches
One-word Instagram captions for realtors
One-word Instagram captions for food brands
One-word Instagram captions for fitness brands
One-word Instagram captions for pet brands
One-word Instagram captions for travel brands
One-word Instagram captions for creators
FAQs when adding one-word Instagram captions
Streamline your Instagram marketing campaigns
Best practices for adding one-word Instagram captions
Before you conquer social media with one-word captions, remember the following best practices:
1. Don't forget your hashtags
The lack of relevant hashtags will make it difficult for users to discover your content through the built-in search tool.
Use hashtag research IG tools to get relevant hashtag ideas.
Vista social has several social media hashtag functionalities, such as:
Hashtag suggestions
Saved hashtags
Hashtag reporting
Etc.
2. Add more context in the comments
One-word captions can make your Instagram content look clean and neat. But if you need to share more information about your posts, add the details in the comments section.
Use Vista Social to automate first comments in your Instagram posts.
In the Publish tool, write your automated first comment in the "Leave first comment" field.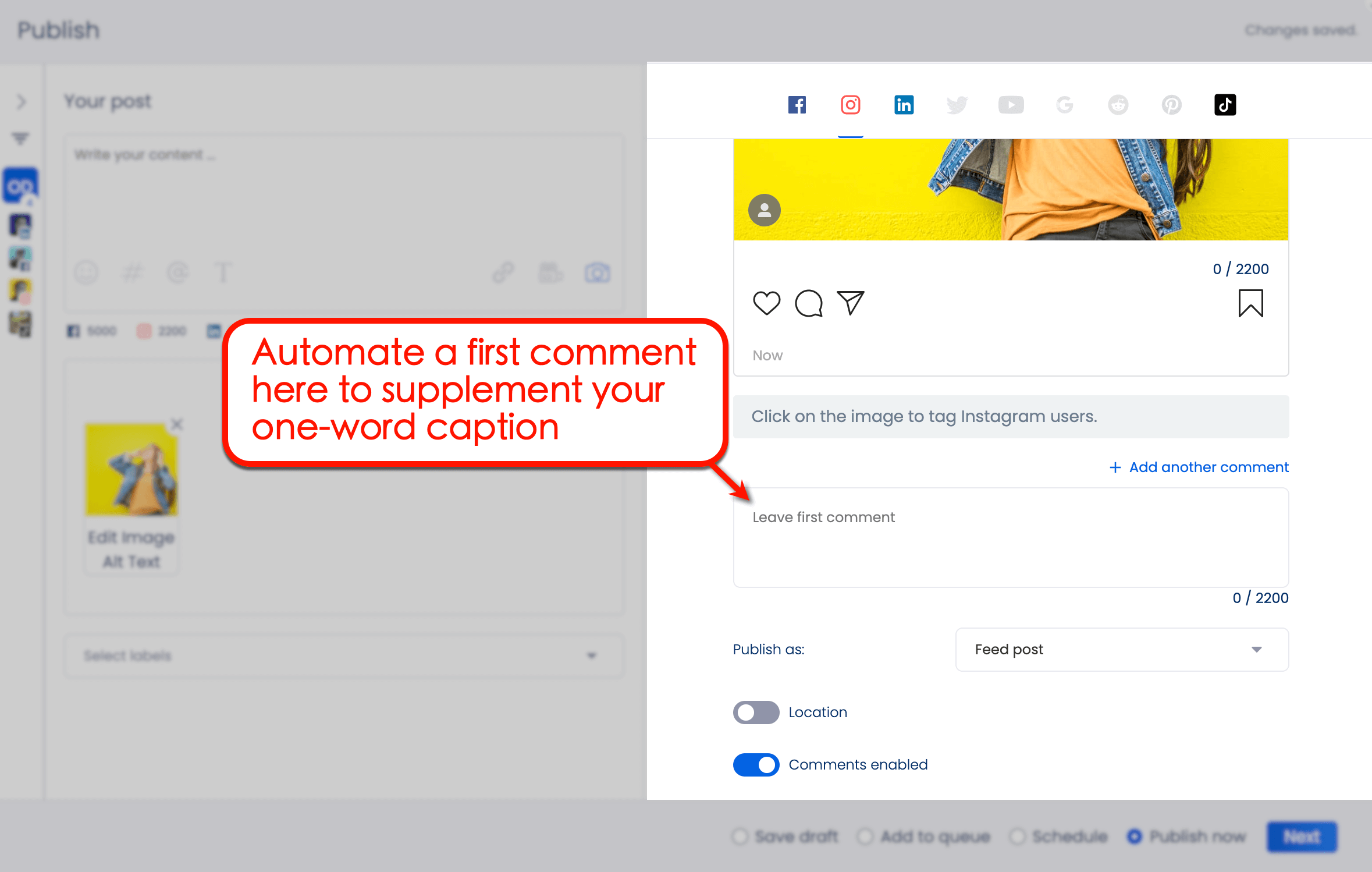 For comment ideas, look for funny things to comment on Instagram that your audience will love.
You should also answer questions, respond to feedback, and invite commenters to check out your other social media channels.
3. Use emojis
Use emojis to make your one-word Instagram caption more interesting.
Look for emojis that are close to the meaning of your caption. For example, if you use the word "love," use the heart or heart eyes emoji.
Other emojis can also be added to add context to your one-word caption. Be liberal with your use of emojis as long as they're related to your Instagram content's message and can't be misinterpreted.
4. Don't force one-word captions
Don't use one-word Instagram captions for the sake of using one-word captions.
Use just one word if they're "punchy" when combined with your picture—or if you're participating in a trend or challenge about using short Instagram captions. But as much as possible, use detailed captions that tell a compelling story about your post and include a clear Call-to-Action (CTA).
Suggested Article: Best Questions to Ask on Instagram Story for Brands
5. Use custom fonts
Change your social media font to make your Instagram captions more eye-catching.
You don't need coding wizardry to do this. With a tool like Vista Social, you can quickly customize the font of your social media posts right before scheduling them.
Simply use the Publish tool and click the 'Customize Font' icon to modify your social media post's font.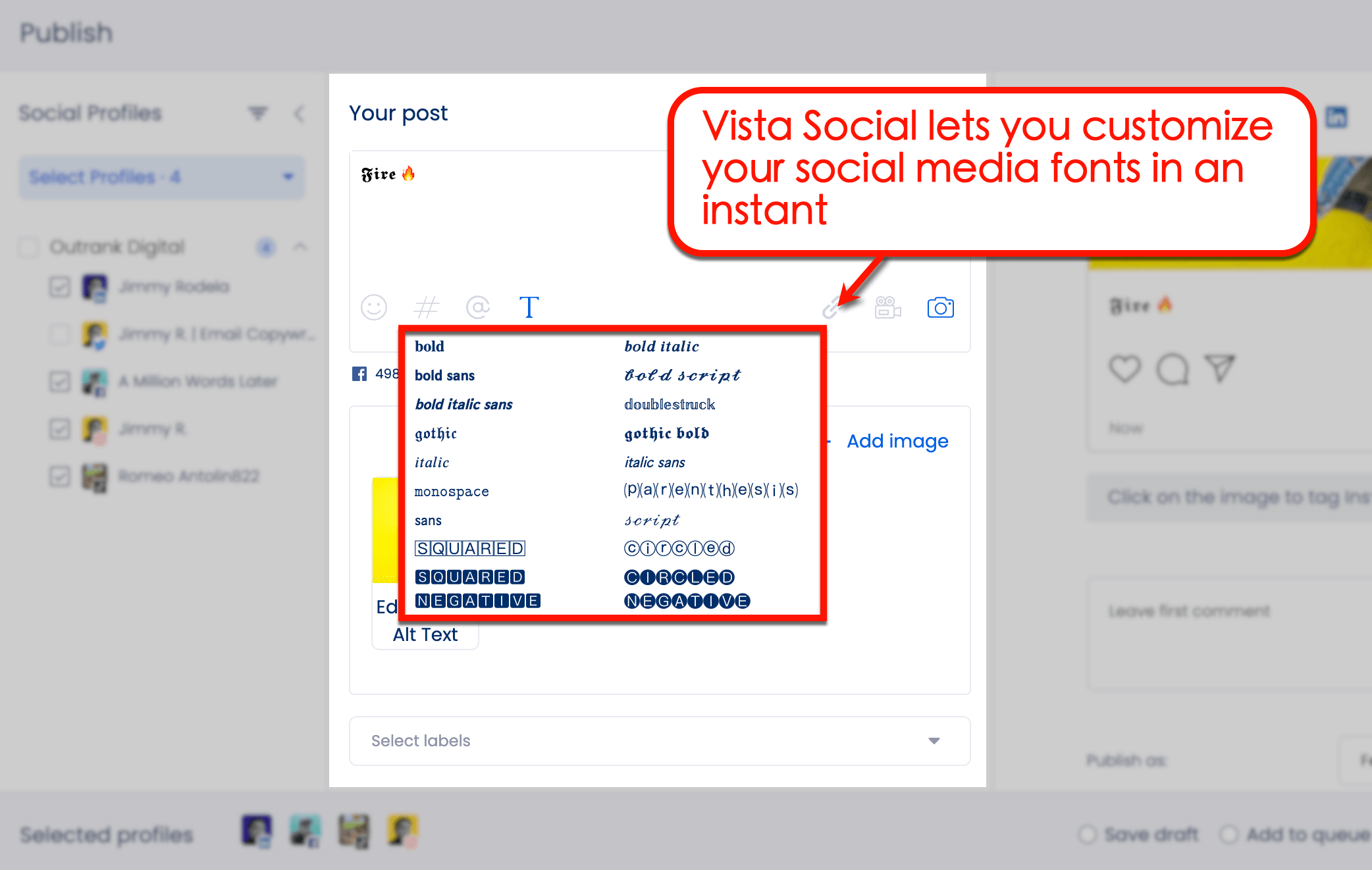 6. Pack more information using videos
Videos are worth over a thousand words. They fill the information gap that one-word captions sometimes create.
The good news is, you don't need high-production videos to get noticed on Instagram. Look at the most viewed Instagram video in your client's niche and you'll find a video taken on a smartphone.
Instagram also supports video content in three ways: feed posts, Reels, and Stories.
Feed videos: Just upload your video as an Instagram post to save it on your client's profile feed. Choose this option if you want to make evergreen videos always accessible to followers.
Reel videos: Reels are discoverable through the "Reels" page of the Instagram app. Users can also find your client's Reels if you use a trending audio, AR effect, or duet.
Instagram Story videos: Instagram Stories are great for interactive content. You can ask interesting Instagram poll questions, use the "Add Yours" sticker to get user-generated content, and more.
Take note that only feed videos and Reels come with captions. If you want to experiment with a one-word Instagram caption from this list, go with either of the two video formats.
7. Know your Instagram content pillars
Maximize your content regardless if you use one-word captions or long captions.
Content pillars for Instagram streamline your content research and creation strategy. They also improve your audience's experience through consistent post structures.
Some quick tips to get you started:
Check out accounts your target users are following and analyze their content pillars.
Use the hashtags that your target audience follow.
Match the existing content pillars on your client's website.
Analyze industry trends using third-party tools like Google Trends.
8. Time your content right
One-word comments can catch your target audience off-guard and spark their interest. Make the most out of them by scheduling your Instagram posts at optimal times.
Vista Social lets you plan an automated posting schedule based on your target audience's Instagram behavior.
When scheduling a new post, click 'Show optimal times' to reveal the ideal hours to post based on user engagement.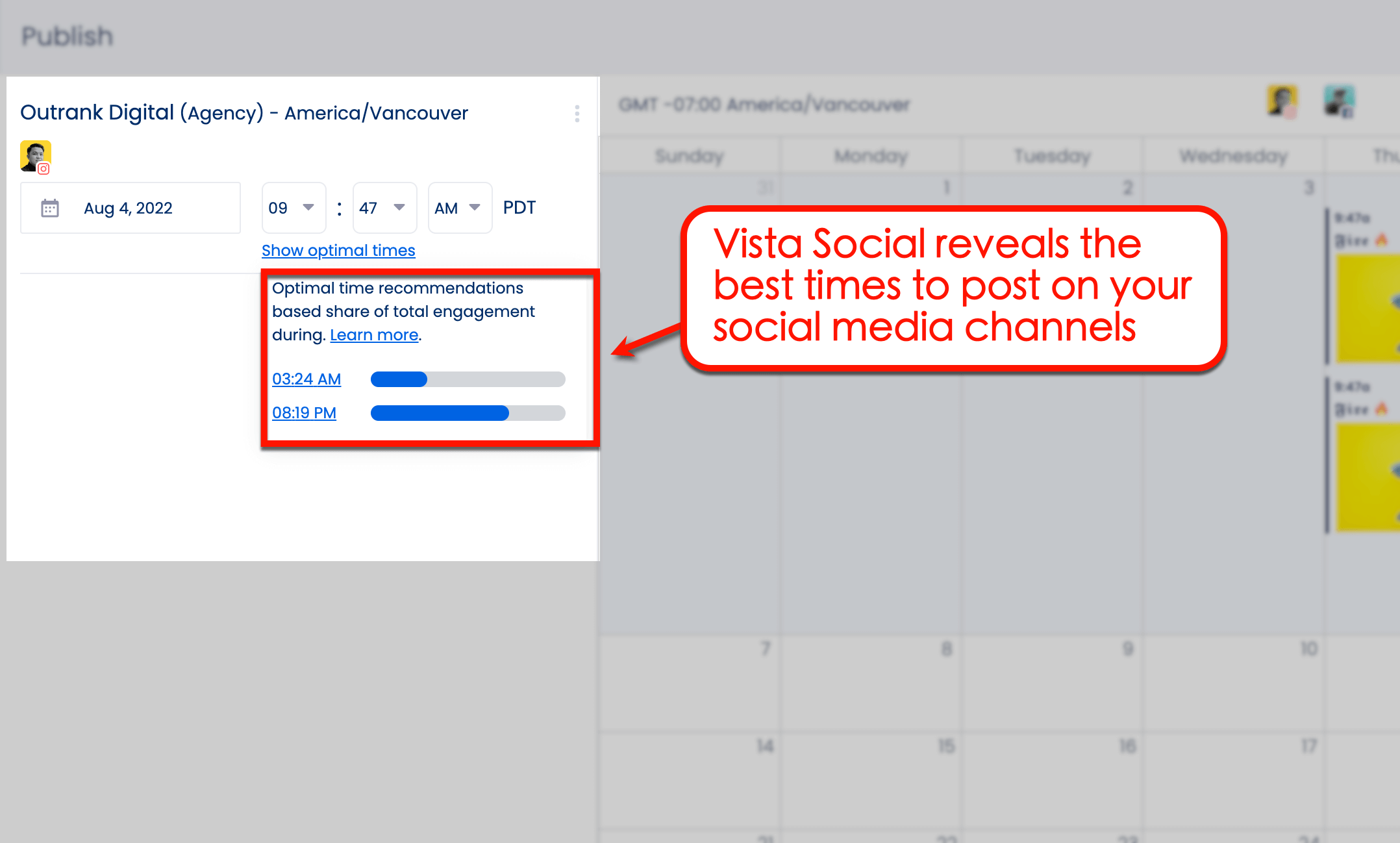 Other than aligning your posting schedule with your target audience's social media activity, there are other ways how to get followers on Instagram without following:
Cross-promote your Instagram content on other social media platforms.
Engage comments by other users.
Consider influencer marketing.
Run contests.
9. Be creative
Don't limit yourself to one-word captions that are specific to your client's niche.
For instance, the word "queen" is widely used in the beauty niche. But it can also be used as a one-word caption in posts that feature a woman in the personal finance, travel, and business niches.
You don't even need to use a real word.
Made-up slang words like "Fri-yay" and "Awesomesauce" all make for attention-grabbing captions.
Are you ready to find the perfect word for your Instagram caption?
For your convenience, we split 404 one-word captions into 11 categories:
Marketers
Beauty brands
Fashion brands
Business coaches
Personal finance coaches
Realtors
Food brands
Fitness brands
Pet brands
Travel brands
Creators (in general)
One-word Instagram captions for marketers
Marketing clients can use these captions when sharing results, promotions, stories, industry statistics, and behind-the-scenes content of their company.
Payoffs
Results
Returns
Grind
Discounts
Blogging
Hacks
Raffle
Contest
Question
Creative
Scale
Targeted
Grow
Optimized
Start
Focus
Consistency
Success
Idea
Brainstorming
Omnichannel
Omnipresent
Omnimarket
Experience
Content
Research
Data-driven
Record
Benchmarking
Reach
Connect
Clicked
Mindset
Attraction
Yes
Sell
Promo
Launch
Break
Coffee
Standout
Ironclad
Pro
SEO
Track
Marketers
Analytics
Team
Huddle
Meet
Hit.
Visual
Double
Revolutionary
Top
Rank
Converted
Subscribe
Writing
Marketed
Diversify
Test
Roadmap
Uniqueness
Conquer
Power
Complete
One-word Instagram captions for beauty brands
Instagram beauty brands shine with compelling one-word captions. Each word matches a variety of content pillars for beauty brands, be it tutorials, photoshoots, or even sponsored content.
Glam
Fabulous
Fab
Cute
Girls
Foxy
Flawless
Essential
Smile
Hey
Fierce
Heart
Lovely
Radiant
Classy
Slay
Hot
Skincare
Beautygram
Relaxed
Vanity
Mood
Barefaced
Natural
Youthful
Moisturize
Care
Hair
Grateful
Blooming
DIY
XOXO
Queen
Amore
One-word Instagram captions for fashion brands
Just like beauty brands, fashion brands can make a statement with one-word captions. Use "power words" or any positive adjective to describe outfits, individual fashion pieces, or your client's brand identity.
OOTD
Vibing
Old-fashioned
Fancy
Want
Swag
Perfect
Definitely
Cool
HIP
Drip
Lowkey
Shopaholic
Elegant
Money!
Sparkle
Identity
Chic
Style
Badass
Vintage
Fire
Savage
Collection
Fashionista
Got
Copped
Stylish
Lit
Makeup
Lashes
Lips
One-word Instagram captions for business coaches
Business coaches can turn any one-word caption and make it inspirational. Here are some ideas:
Success
Boss
Dreamer
Inspiration
Excelsior
Dream
Yours
Manifest
Build
Psyched
Aspire
Rise
Startup
Do
Execute
110%.
Founders
Persevere
Club
Upward
Organized
One-word Instagram captions for personal finance coaches
While business coaches focus on the success of teams, organizations, and entrepreneurs, personal finance coaches cater to money-conscious individuals.
Blessed
Goals
Stocks
Save
Practical
Plan
Gold
Crypto
More
Invest
Independent
Inspired
Ignited
Believe
Cashflow
Interest
Cash
Surge
Candlesticks
Pocket
Dividends
High
One-word Instagram captions for realtors
Realtors need one-word captions that highlight the properties they manage, their day-to-day activities, or their (or their clients') achievements.
Minimalist
Welcome
Property
Sold
Soon
Home
Reserved
Completed
Ready
House
WIP
Interior
Backyard
Pool
Nearby
Construction
Progress
Moving
Dare
Dream
Estate
Homeowners
Residents
Clients
Tour
Tripping
One-word Instagram captions for food brands
Food brands can use plenty of one-word captions that describe flavor. They can also borrow power words from business, beauty, and travel brands for their captioning efforts.
Feastmode
Goodies
Yum
Foodie
Snacking
Breakfast
Cheers!
Tastebuds
Toast
Delights
Lunch
Dinner
Chomp
Plating
Enjoy
Dessert
Brunching
Top-notch
Raw
Buffet
Feasting
Hotdog
Homemade
Homegrown
Treat
One-word Instagram captions for fitness brands
Fitness brands can use one-word captions as a motivational tool. They show confidence and originality—both crucial elements for brands to succeed in this space.
Flex
Fit
Swole
Abs
Veins
Toned
Endure
Lift
Weights
Alpha
Beastmode
Legend
Push
Bulking
Gains
Ripped
Strength
Montage
Core
Cardio
Carbs
Loading
Therapy
Hustle
Motivation
Chad
Unit
Self-love
Sweat
Stronger
Godmode
One-word Instagram captions for pet brands
Pet brands can use a lot of fun, cute words in their Instagram post captions. Experiment with misspellings like "Cheezburger" and "Smol"—pet brand followers on Instagram love them.
Cutie
Furbaby
Furparents
Grooming
Walking
Doggo-talk
Pack
Pride
Flock
Herd
Bestfriends
Derp
Snoot
Doggo
Clingy
Boop
Daycare
Bork
Meow
Puppers
Boof
Blep
Smol
Pawsome
Paw
Moar
Cheezburger
Kiss
Sploot
Snuggles
Cuddles
Pets
One-word Instagram captions for travel brands
Travel brands use descriptions along with inspirational text in their Instagram post captions. Feel free to borrow some words from personal finance, beauty, and business brands.
Vacation
Getaway
Vay-cay
Unwind
Peace
Wayfarer
Bliss
Magical
Nomadic
Cozy
Magnificent
Majestic
Serene
Footprints
Steps
Beach
Strolling
Climb
Horizons
Journey
Traveller
Breathless
Roadtrip
Grand
Paradise
Escape
Moments
Hiking.
Wanderlust.
Ticket.
Backpacking.
Explore.
Breezy.
Breathtaking.
Heaven.
Touchdown
Forest
Golden
Summertime
Fall
Fall-ing
Dusk
Sunset
Awwtumn
Flowery
Retreat
Twilight
Snap
Mermaid
Wavy
Hope
Breathe
Life
Gorgeous
Daydreaming
Homecoming
Sunkissed
Tranquility
Beachy
Wide-eyed
Island
Memories
Winter
Spring
Tropical
Sunny
Rainy
Snow
Bikini
Windswept
Layover
Country
Flight
Ride
Sunset
Adventures
One-word Instagram captions for creators
On Instagram, a creator can be anyone who uploads a range of original content tied to their personal brand. This includes experts, gamers, models, and influencers from other social media channels.
Throwback
F.R.I.E.N.D.S.
Salute!
Why?
Family
Psyched!
Hi.
Valentine
Dope
Ouch!
ROFL
Shook!
Yikes
Amazeballs
Please?
Nostalgic
Crazy
Vintage
Couple
OMG
Goodfellas
Sisterhood
Squad
Happy
Fri-yay
Interesting
Soulmates
Groufie
Selfie
Epic
Brotherhood
Wild
Gang
Word
Bruh
Facts
Sweet
Chilling
Weirdos
Awesome
Basic
Wicked
Feelings
Imagine
Wondering
Seriously?
Friend
Besties
Heartbreaker
Sun
Really?
Next!
Fun
Us
Emotional
Trust
Joy
Outstanding
Different
Speechless
Hangout
Everything
Awesomesauce.
Pranked.
FAQs when adding one-word Instagram captions
What are some one-word captions?
Examples of one-word captions for Instagram:
Slay.
King/Queen.
Family!
Besties.
Happy/happiness.
Awwwtumn.
Soulmate.
What are some unique captions?
How to write unique Instagram post captions:
Use rhymes (i.e. "Win marketing like a king")
Use one-word captions (i.e. "Power," "Gorgeous," "Word," etc.)
Add your spin to famous movie quotes (i.e. "With great content comes great responsibility")
How do you change the font on Instagram caption?
Use online font changers like Copy & Paste Fonts by LingoJam to modify the font of your social media captions. You can get better results with top-tier social media management platforms like Vista Social, which has more features like reporting, scheduling, and review management.
Streamline your Instagram marketing campaigns
Start dominating Instagram marketing with the only social media management platform you'll ever need.
With Vista Social, you can automate posts, customize fonts, manage your asset library, track conversations, and more—all for the price of free. Maximize the effectiveness of one-word Instagram captions with an all-around optimized social media strategy.
Create a free Vista Social account now and manage up to three social media profiles.