The long-awaited direct publishing for Instagram Reels is finally here! No workarounds, no hacks, no mobile app notifications. Schedule your Instagram Reels in Vista Social and they will be published directly on Instagram!
We're beyond excited to bring this feature to our users and be the first social media management platform to offer direct posting of Instagram Reels!
As the number one in engagement, Instagram Reels has outperformed all other short-form video apps and has become the go-to for reaching new audiences on Instagram. In fact, studies suggest that Reels are better for brands than TikTok!
We understand that marketers, social media managers, business owners, and creators are busy people. That's why Vista Social has created a new feature that allows you to schedule your Reels (no notifications required) and streamline your workflow to be more consistent on Instagram.
Can You Schedule Reels?
Yes! With Reels direct publishing, marketers can more easily create and manage cross-platform campaigns, access Reels analytics, learn about their audience, and optimize their strategies right in the Vista Social suite.
Oh, and did we mention there are no notifications or reminders! Many marketers have been wondering, "can I schedule reels on…" for each social media management platform. But, Vista Social is the first approved platform for Reels direct publishing.
Other social media management tools are only offering reminder or notification scheduling. Vista Social's Reels direct publishing feature provides a smoother user experience; say goodbye to inconvenient apps to install and notifications/reminders to manage!
Vista Social's comprehensive platform allows businesses to manage their Reels with direct video publishing and analytics features. Streamline your strategy by discovering how to schedule Reels to Instagram with Vista Social's all-in-one solutions.
Ready to level-up your Reels strategy? Schedule your Reels in advance with Vista Social. Sign up today for free.
Why You Should Schedule Reels with Vista Social
More consistent posting.
Access to detailed analytics.
Identify content with viral potential.
Moderate comments and conversations.
1. More Consistent Posting
With Instagram rolling out a new home Feed of full-screen Reels, it's more important than ever to be consistent with your posting.
Reels are well-liked by Instagram's algorithms and are heavily promoted across the entire app experience. So, what does this mean for you? Reels get favored by the algorithm and appear more on Instagram's Explore page – making them a key strategy for improving discovery and growth.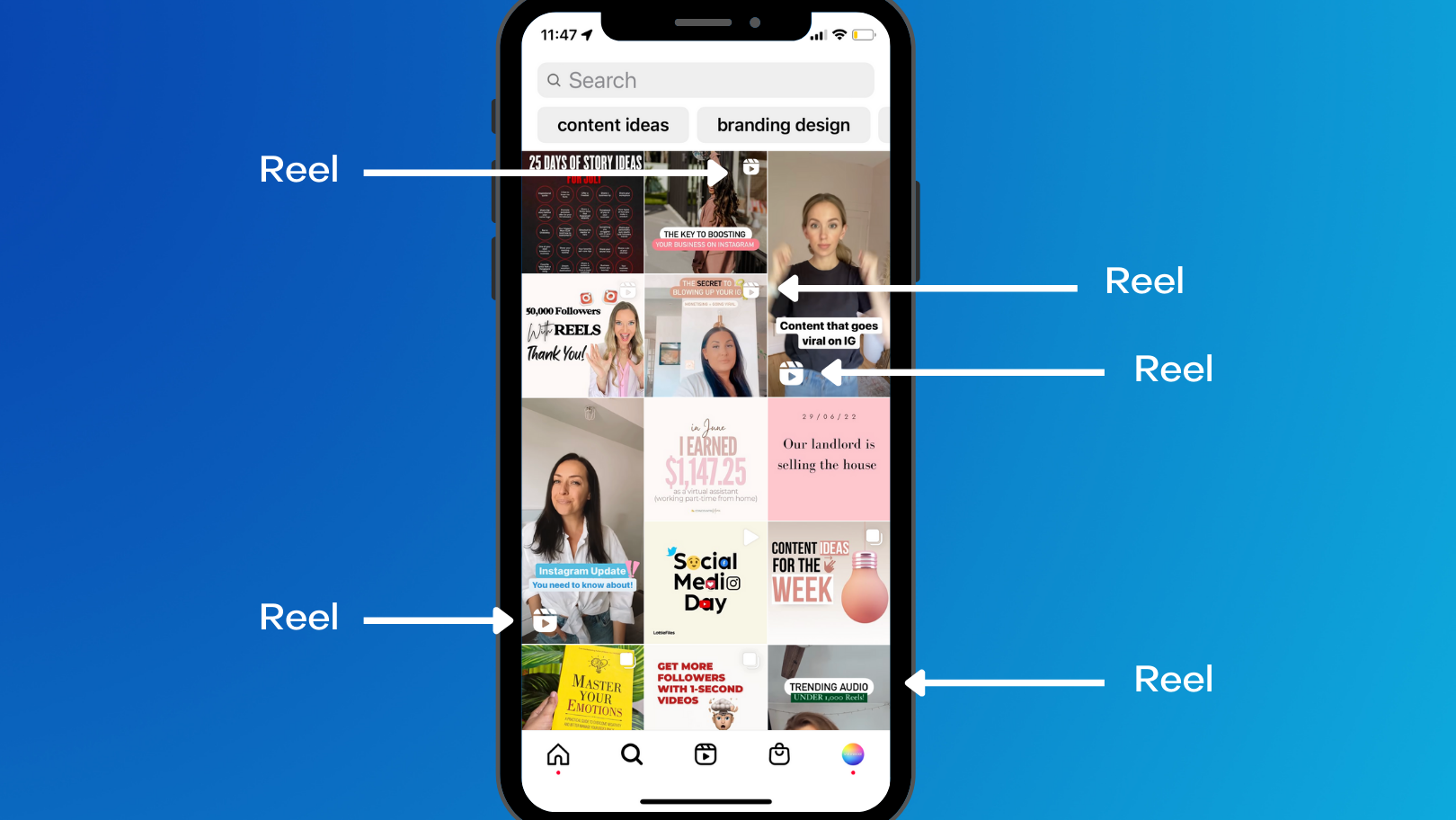 50% of users use the Explore page every month. By investing in a consistent posting schedule for your Reels, you not only are building trust with your followers, but you also are increasing your chances of having your Reel added to the Explore page.
2. Access to Detailed Analytics
Instagram provides business and creator accounts with some insights into their Reels performance. However, this data only scratches the surface of your post engagement and interactions.
Using Vista Social's Reels direct publishing capabilities provides you with detailed analytics to measure, track, and optimize your Reels performance — all from one intuitive analytics dashboard.
Build fully customized reports and easily export them — to share them with your team, manager, and stakeholders. Vista Social allows you to create reports for:
Social media performance: This report focuses on performance across your social media profiles.
Post performance: This report analyzes the performance of your published content.
Review performance: This report focuses on reviews, rankings, and responses.
Tasks performance: This report measures your team's productivity.
Competitor analysis: Compare the performance of your brand to others.
Vista Social's analytics can provide you with insights to create better Reels on Instagram. These numbers can be a game-changer in terms of not only how you approach Reels but also your content strategy at large.
3. Identify Content with Viral Potential
More often than not, at least one of your Reels has received a surge in engagement; chances are it was well-liked by the algorithm and added to the Explore page.
Using Vista Social to manage your Reels can provide you with detailed analytics to help you find the common themes between your posts with the highest engagement. Discover which content format works best for your account:
How-to's
Try-on hauls or product showcases
BTS
Skits and Challenges
At the end of the day, being able to identify your best posts can help you craft your Reels strategy and optimize your content to be more liked by Instagram's algorithms.
4. Moderate Comments and Conversation
According to recent statistics, reels get 22% more engagement than traditional videos. With a spike in engagement, it can be easy to miss comments and messages on your account.
With Vista Social, you can engage with your Instagram followers by managing comments and conversations in your Social Inbox.
Our platform lets you track profile and video metrics in real-time, compare to other platforms and, benchmark performance; optimize strategies; better understand audiences and engagement. Managing your Reels strategy has never been easier!
How to Schedule Reels With Vista Social
Scheduling your Reels with Vista Social can be done in a few easy steps. Here's how:
Step #1: Open The Publisher on Vista Social
Click the Publish icon to open the scheduling window. Make sure that Instagram is selected on the list of social profiles.
Step #2: Choose a Video for Your Reel
Upload or import content from your Media Library to the Publisher.
Pro Tip: We recommend an aspect ratio of 9:16 (similar to a mobile phone screen) to avoid cropping or blank spaces.
Step #3: Write Your Caption
Write your caption and include strategic hashtags groups and keywords to maximize your Reels post's reach.
Step #4: Schedule Your Reel
Select the date and time you'd like to post your Reel on Instagram. Or directly publish your Reel at that time.
And voila, you can now schedule Reels to Instagram! When it's time to post, your Reel will be automatically published; no late-night logins or notifications required.
Vista Social's Instagram Management Features
When picking the right Reels scheduler for you, it's important to think about what features meet your needs.
With Vista Social's free Reels scheduler, you can:
Upload unlimited videos to your Media Library
Upload 15 posts per profile per month
Automatically publish Reels posts
Publish up to 5 comments along with your video.
Crop, edit, and filter your videos.
And if you upgrade to a pro plan, you'll get even more features, including:
Unlimited social media profiles to connect.
Unlimited number of users.
Limitless social media posts able to be scheduled.
Access to Reels Analytics to track your performance.
Moderate conversations and comments with your Social Inbox.
Easily design engaging visual content with Vista Social's Canva integration.
Bulk Scheduling.
Smart Scheduling.
Approval Workflow Tools.
Universal Mentions.
Saved Hashtags.
And more!