Have you wondered how to schedule TikTok posts with one of the best TikTok scheduling tools for brands and agencies? We're excited to announce that TikTok direct publishing and management features are now available for business and creator accounts on Vista Social.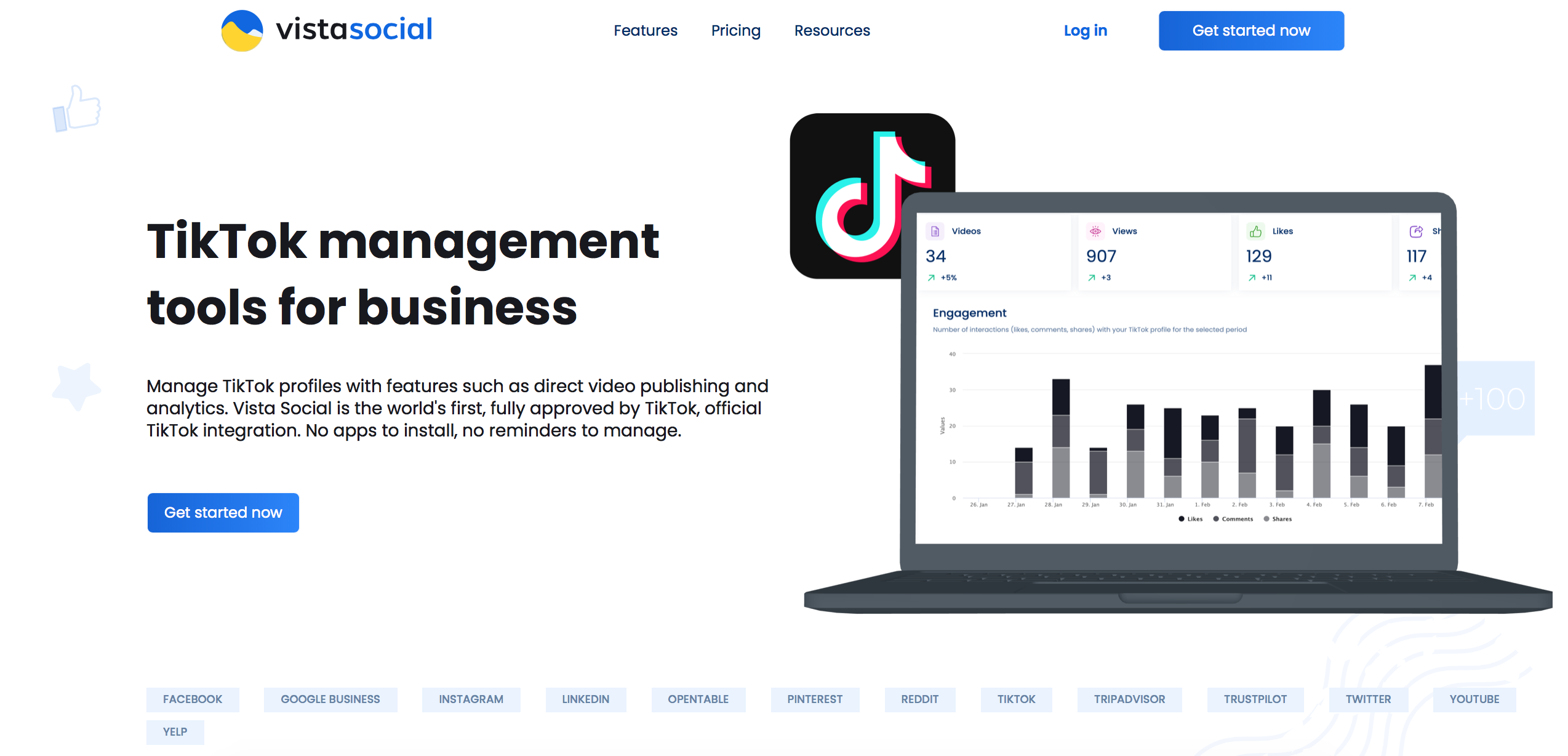 According to Sensor Tower, TikTok was the second most downloaded app in the U.S. in November, with 4 million downloads (trailing only Disney+). A fast-growing platform like TikTok requires a tool with modern capabilities for its app.
Vista Social has a brand new take on social media management. Our platform was built in 2020 with modern solutions, unlike competing tools that were built in the last decade. There's no reason to settle for buggy, outdated features, poor customer support, and hefty price tags in an industry valued at 12.08 billion USD in 2020 with no sign of slowing down.
Vista Social has many integrations and features to help you scale your content strategy without breaking the bank — keeping more money in your pockets and having more time to grow your business. Streamline your strategy by discovering how to schedule TikTok posts with Vista Social's all-in-one solutions.
Vista Social's TikTok Scheduler and Management Solutions
Vista Social has the capability to help business and creator accounts plan, schedule, & manage content across all platforms, including TikTok. The way content is delivered, shared, and co-created on the app is unlike any other social media network.
77% of global TikTok users say they read the comments on TikTok videos. The connection between brands and consumers on TikTok is interactive, leading to higher engagement rates and brand affinity. Brands and agencies are working hard to optimize and manage their content strategy with the goal of finding and scaling success, and they're using a modern tool like Vista Social to do it.
There is a huge opportunity to leverage insights and engage with audiences at scale on TikTok. Our TikTok management features can help you track conversations in the comments section, delegate and respond, understand the community's engagement style with your brand, and maintain a consistent response cadence to stay engaged with your TikTok community.
Brands and agencies don't need to manually manage their social media presence across various platforms and stakeholders — leading to time-consuming scheduling processes, a lack of cross-platform insights, and increased moderation needs.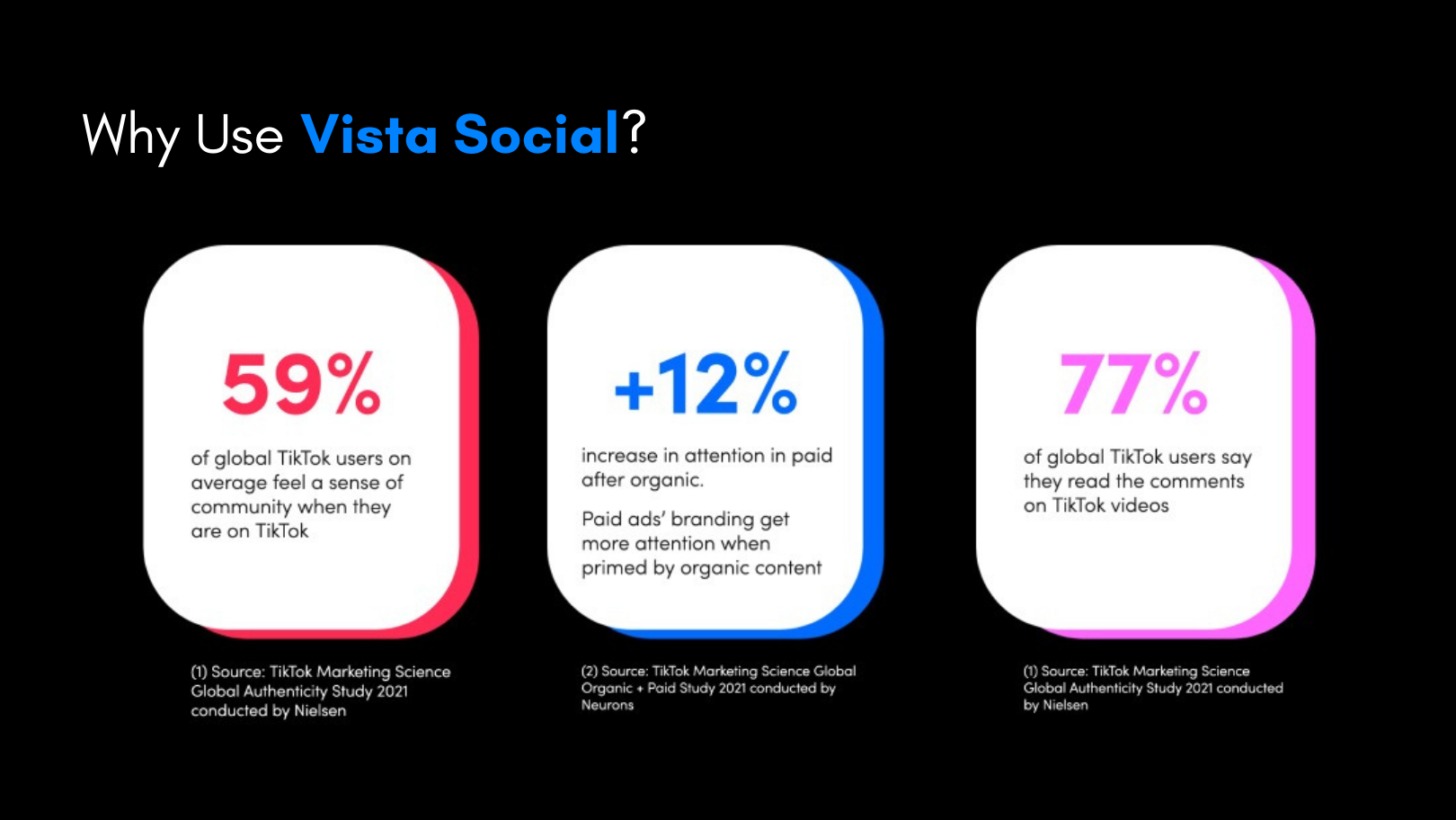 The benefit of using Vista Social to monitor your TikTok content strategy is that Vista Social has many integrations available, allowing you to connect all of your social profiles across a multitude of platforms in one easy-to-use dashboard without compromising on modern and innovative features.
How to Schedule TikTok Posts With Vista Social
Scheduling your TikTok videos with Vista Social can be done in just a few easy steps. Here's how:
Step #1: Add Your TikTok Profile to Your Vista Social Account
Adding your TikTok profile to your Vista Social account is a quick and easy process.
On the main profile dashboard, add your TikTok Profile by clicking the plus '(+) Quick Add' sign at the bottom of the menu bar and then select 'Add Social Profile'.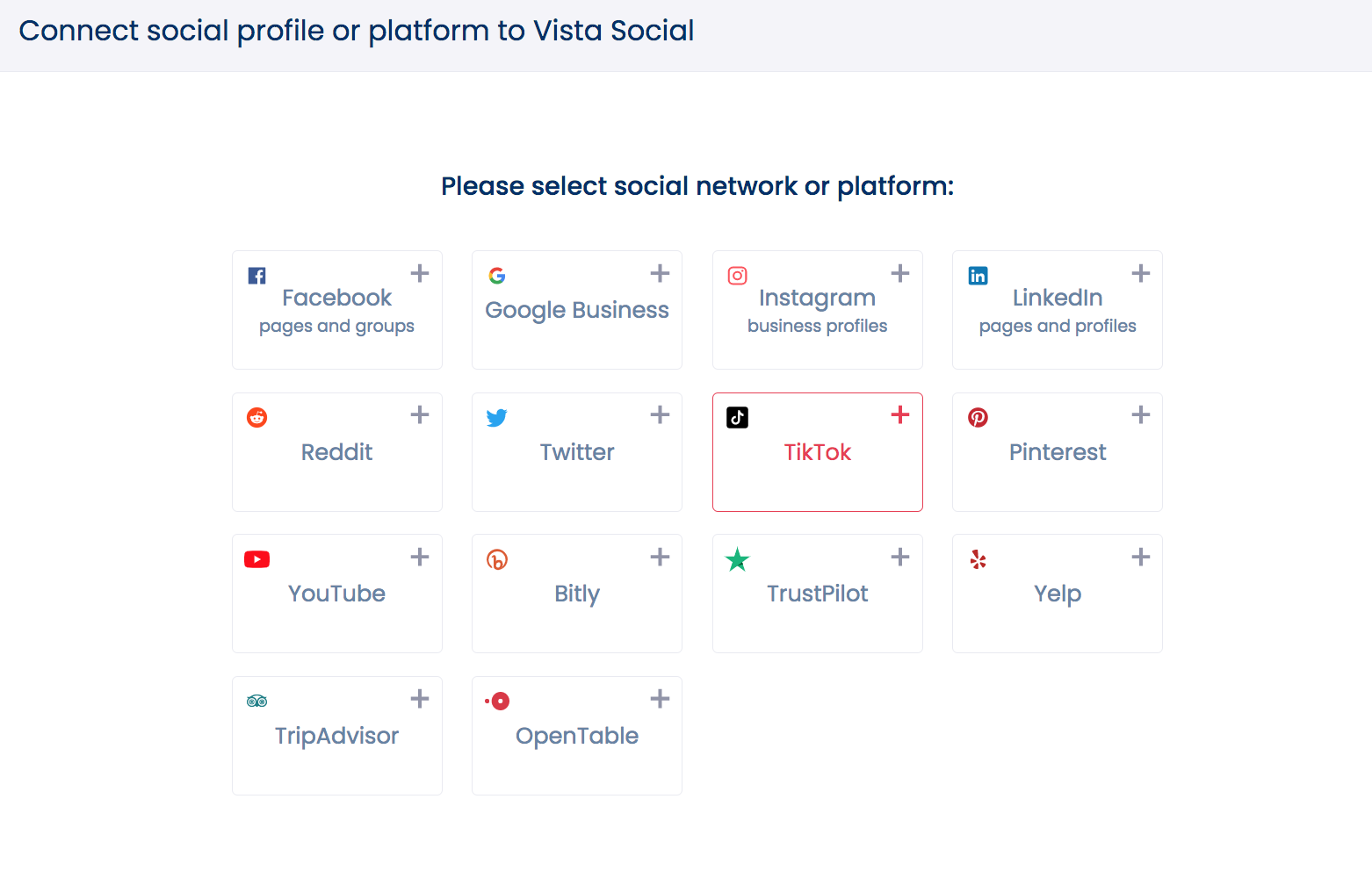 Select which entity you want to connect your social profile to and choose TikTok. And you're all set; you can now schedule and manage TikTok posts in Vista Social!
If you had previously connected your TikTok profile to Vista Social, you will be required to reconnect your profile.
Step #2: Automatically Publish Your TikTok Video
To get started with directly publishing your TikTok post, click on 'Publish' on the left side of the dashboard. Next, select 'TikTok' from your list of profiles, and choose from the four posting options (single post, bulk publishing, find content, and smart publishing) as shown below: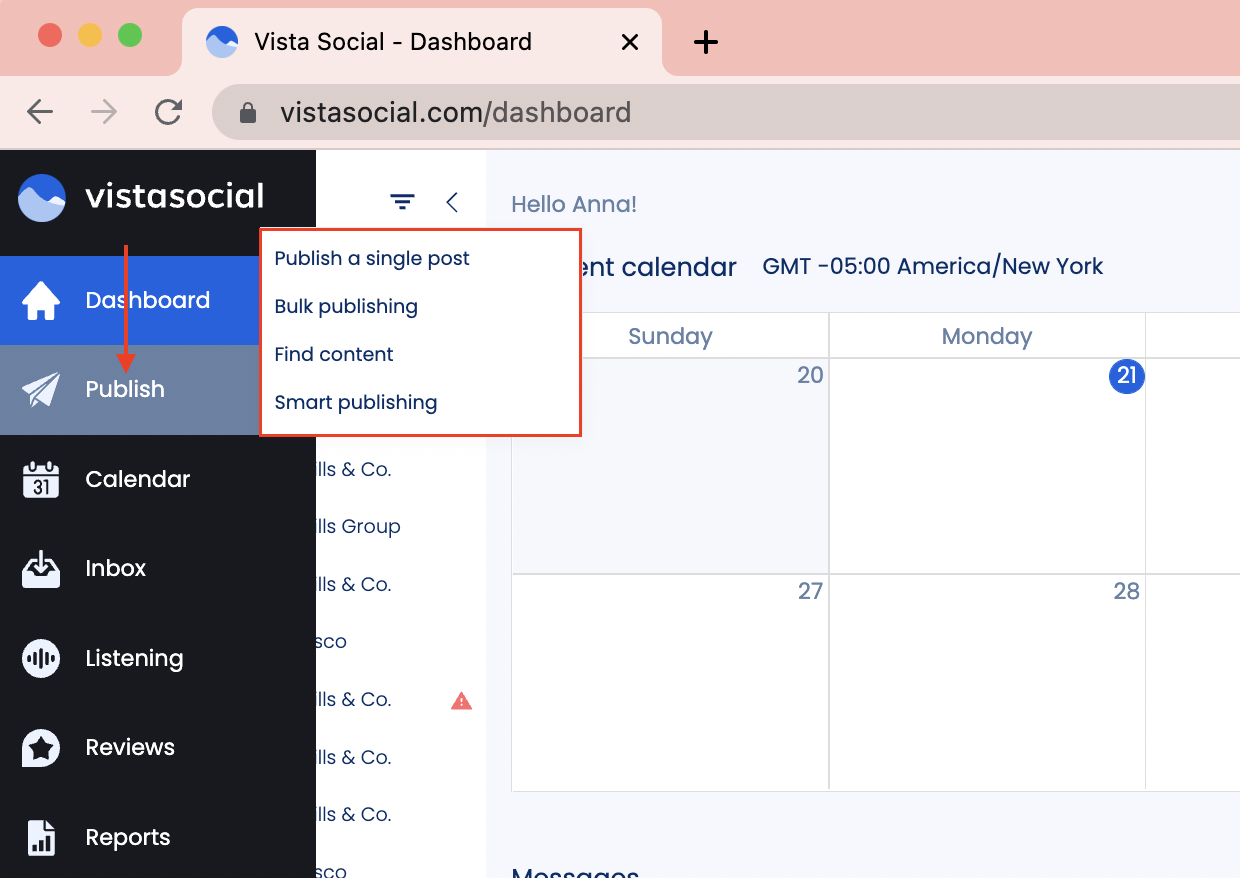 PRO TIP: TikTok currently has a character limit of 300. When curating your post, an automatic preview will be displayed on the right side of the publisher to get an idea of what it would look like once published. Also, see video posting guidelines for TikTok here.
Step #3: Choose a Video to Post on TikTok
Tap the camera icon and import the media you'd like included for your TikTok video. You can upload content from your computer, choose from your existing media library, upload from a URL, or click 'discover' for stock-free options.
Step #4: Write Your TikTok Post Caption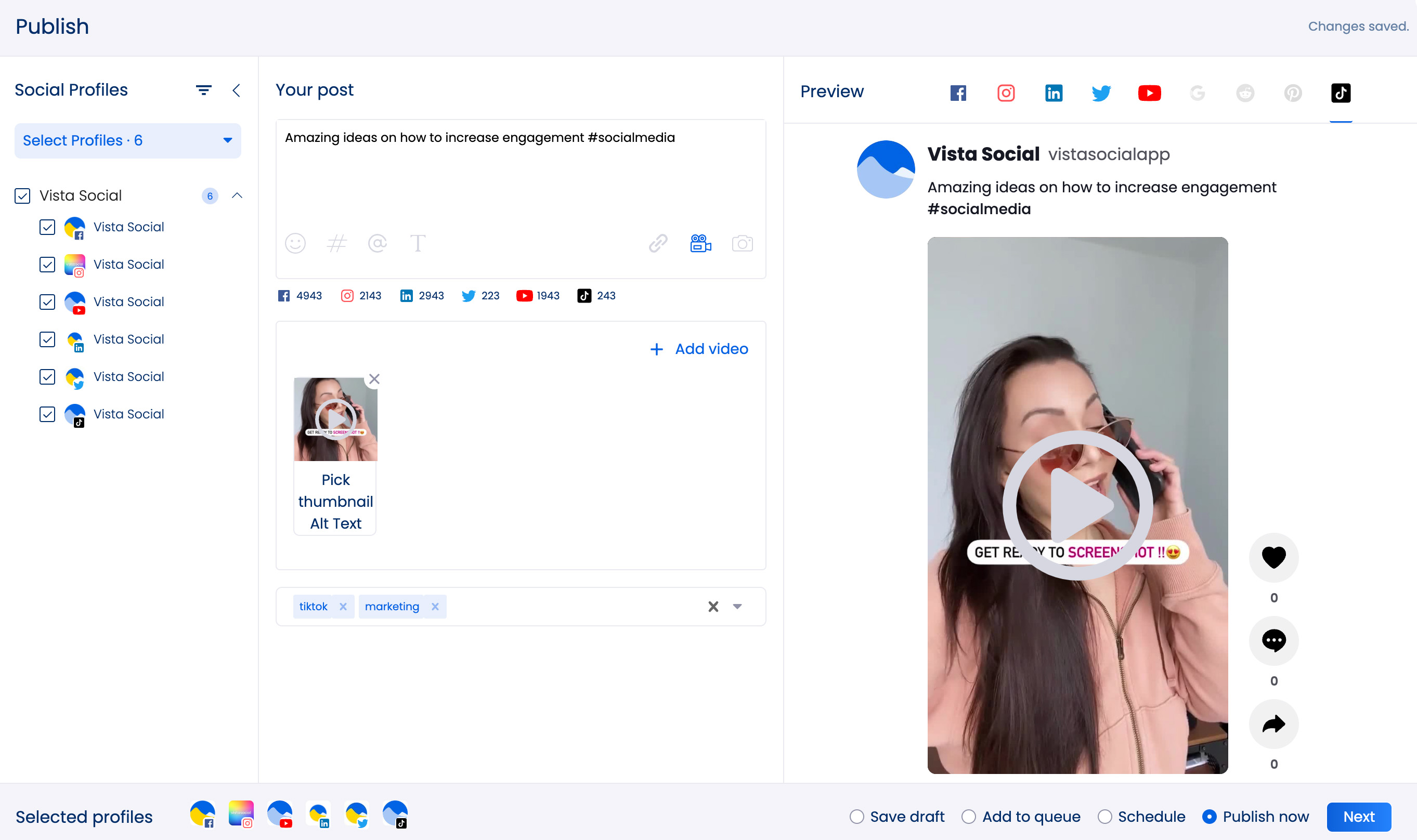 Write your caption and include strategic hashtags and keywords to maximize your TikTok post's reach.
Additional options when scheduling TikTok videos with Vista Social: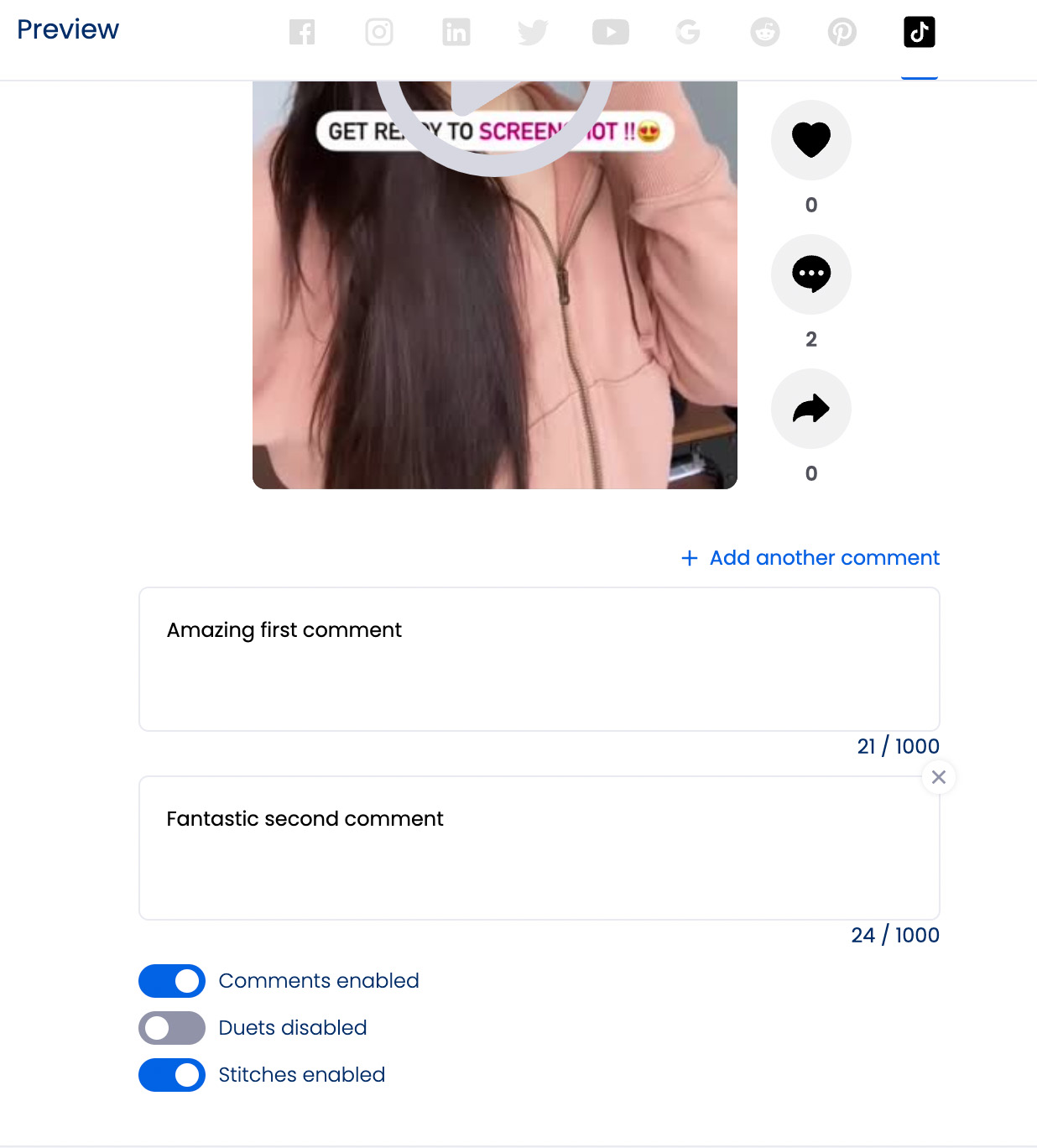 Publish up to 5 comments along with your video.
Enable and disable comments.
Enable and disable duets.
Enable and disable stitches.
Step #6: Schedule Your TikTok Post
Select the date and time you'd like to post your video on TikTok. Confirm the posting schedule and click 'Publish'.
As soon as TikTok processes the video the status will change to 'Published'. Depending on the size of the video, it can take anywhere from a few seconds to a few minutes.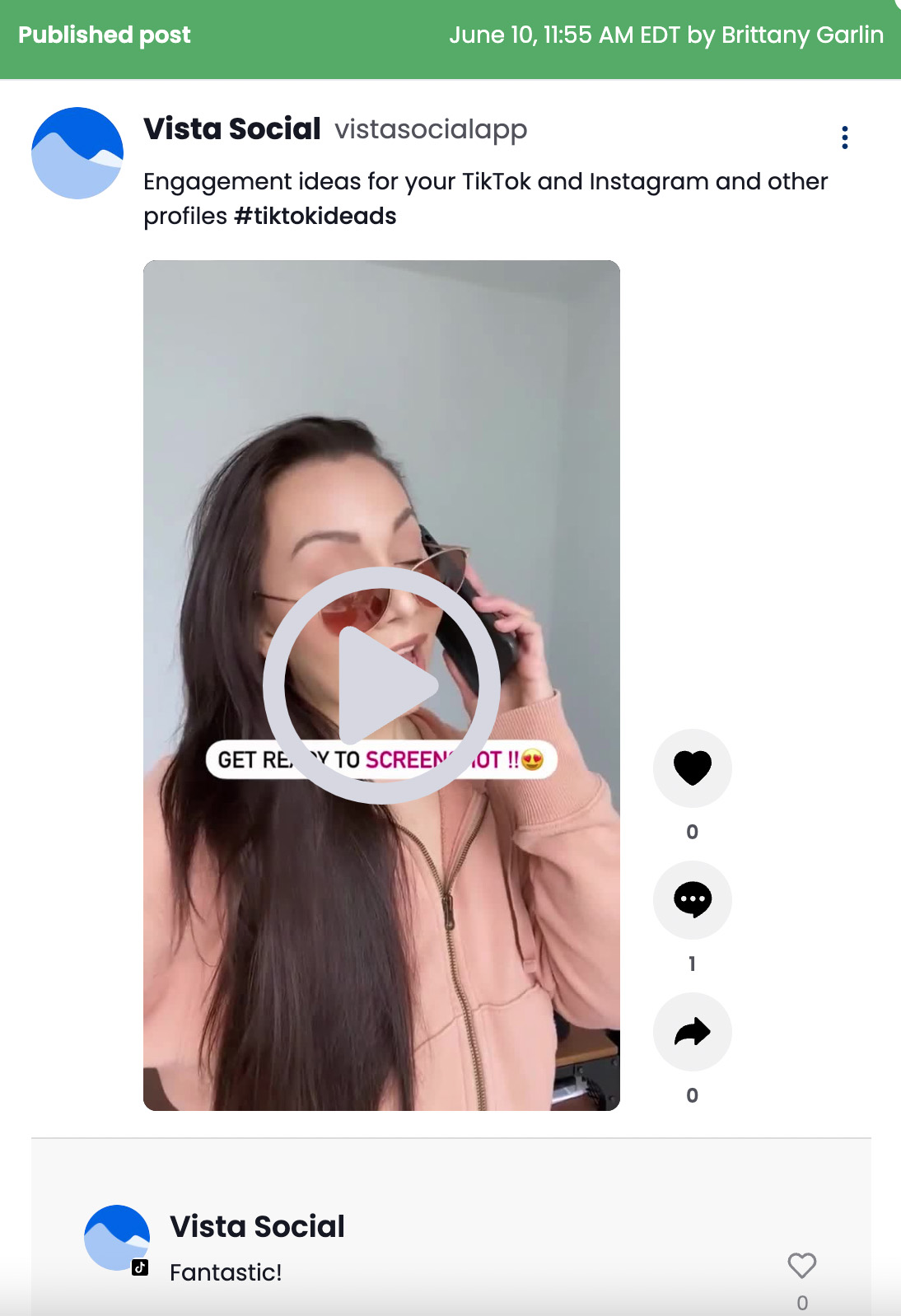 And the best part? Your video will be automatically published directly to TikTok. Say goodbye to late-night logins and notification scheduling!
Bonus Features: Reply to Comments and Check Your Analytics
With Vista Social, you can engage with your TikTok followers by managing comments and conversations in your Social Inbox.
Our platform lets you track profile and video metrics in real-time, compare to other platforms and benchmark performance; optimize strategies; better understand audiences and engagement. Managing your TikTok content strategy has never been easier!
Why Choose Vista Social as Your TikTok Scheduling Tool?
When picking the right TikTok scheduler for you, it's important to think about what features meet your needs.
With Vista Social's free TikTok scheduler, you can:
Upload unlimited photos and videos to your Media Library
Upload 15 posts per profile per month
Automatically publish TikTok posts
Publish up to 5 comments along with your video.
Enable and disable comments.
Enable and disable duets.
Enable and disable stitches.
And if you upgrade to a paid plan, you'll get even more features, including:
Unlimited social media profiles to connect.
Unlimited number of users.
Unlimited social media posts able to be scheduled.
Access to TikTok Analytics to track your performance.
Moderate conversations and comments with your Social Inbox.
Bulk Scheduling.
Smart Scheduling.
Approval Workflow Tools.
Universal Mentions.
Saved Hashtags.
And more!
Vista Social is a modern tool built for this decade of social media management and provides innovative solutions to help you save more time and money (compared to other platforms' pricing)!
Create an account and start scheduling your TikTok posts with Vista Social today – it takes less than 2 minutes!